2/28
Woodside
Cloudy with 40 percent chance of showers. Windy. High 12
40%
190° at 14 knots, up to 22 knots after 2:00 pm
-2.4°
/1000'
(unstable)


900 meters
3000 feet
Woodside Report - beautiful conditions all morning. We drove through rain on the way to Vancouver, but the WebCam showed sunny breaks over Woodside much of the day. Apparently Darren flew a few flights while Andy drove, sledders I guess?



Picture taken at sunrise, Feb 28/2005

2/27
Sumas

or

Woodside but it is gonna be leeside at Woodside!
Sunny with morning cloudy periods. Areas of fog dissipating this morning. High 16
0%
090° at 10 knots
-2.0°
/1000'
(standard)


2330 meters
7300 feet
Woodside Report - we visited a new launch site on Sasquatch Mtn., in anticipation of the east wind @ 15 knot wind forecast. But we arrived to find no wind and even a bit of down cycles. But people were launching at Woodside so we headed over there.

About 20 pilots were out and Colleen showed us where the lift was! We all flew a few flights with some spotty lift but it was enough to keep you up if you worked hard. The last flight took me about 7 launch attempts including an interesting top-landing after I got airborne on the 4th try, requiring a relaunch ;-)


2/26
Woodside but it is gonna be leeside!
Sunny with morning cloudy periods. Areas of fog dissipating this morning. High 17
0%
110° at 10 knots
-2.4°
/1000'
(unstable)


2330 meters
7300 feet
Woodside Report - Kelly was on launch when I called her around 11:30 am. Pilots were flying and she was getting ready to take off. No reports on how high or how long the flights were as we were out of radio range in Ashcroft.




2/25
Woodside
A mix of sun and cloud. 30 percent chance of showers this morning. High 16
0%
160° at 8 knots
-2.4°
/1000'
(unstable)


2330 meters
7300 feet
Woodside Report - When I drove by on Hwy 1 to head to Kamloops, I contacted Kelly on the radio and Derek & Norm had been in the air for 1.5 hrs. We saw Alan soaring just at launch height at Bridal Lower, apparently getting over 2 hours airtime.

Woodside Gloat Report #2 - Well what can I say? Fabulous day there today, scrappy, punchy tight thermals, but if you wanted to stay up you had to put up with them. Several young eagles flying very close but I left the damn camera at home!! Lost count of how many times thinking I was heading out to land getting flushed in big sink then working the light stuff very low, to getting back up over launch. Andy and I landed after about 1hr 40 min feeling pretty tired but the sky pig of the day was Derek with about 2hr 45min - Thomm


2/24
Woodside
Sunny. High 16.
0%
200° at 5 knots
-2.1°
/1000'
(unstable)


2330 meters
7300 feet
Woodside Report - quite a few pilots out flying, however the conditions did not allow for any long flights. My guess is there was at least 30 flights undertaken! I was able to bag a flight late in the day and it was very smooth.

Woodside Report #2 - I flew by the ranch today at 10:00am in the Beech 1900 on my way to Prince George. We had no passengers on board so I went VFR the whole way. We came along the North Shore mountains east bound, around the corner by Harrison Bay, and right over Woodside launch, just above the trees in behind and at 240 knots. No one was in the air and there was not a breath of wind with not a single bump until just past Cache Creek. Barely a cloud in the sky for the whole province - C ya soon, Neil G.

Elk Report - Larry, Ivan and Alan flew Elk getting about 20 minutes. Later Kevin A flew and got 100 meters over launch and was still flying when we retrieved my truck.

Woodside Retraction - due to impending libel/defamation action from a certain personal trainer, I had to change the Report from Feb 23 :-)


2/23
Sumas, except you will have to hike in
Sunny. Windy. High 15.
0%
100° at 10 knots (leeside caution)
-1.5°
/1000'
(very stable)


2500 meters
7600 feet
Elk Report - Derek and Martina hiked Elk in the morning and were met by Eddie, Ivan and Carl. All flew and Carl had the shortest flight (Sat Man), the way he likes it. Soarable for a bit with light winds in the Eddie LZ.

Woodside Report - Andy and Barry burned up the skies with 4 flights each. Derek and an umnamed pilot flying a turquoise Allegra joined them for the last 2 flights, with an umnamed pilot flying a turquoise Allegra whining about the hike out (so Joe drove down to get her from Riverside).

Ian Hall's Excellent Adventure continues . . . - few things of note lately, the better the people, the worse the internet connectivity; the paragliding circuit is like a connected brotherhood literally funded by the government. Thus, we were welcomed with open (if not somewhat burdensome) arms in Painan. Let me explain . . . Within an hour and a half after arriving at night in the pouring rain, and making one call to a contact, people arrived at my hotel to say 5 of them would take off early to fly with me. I later found out, Anwar, the man who set up the sumpur FlyIn, has convinced the Indonesian government to buy wings, set up sites, and train volunteer Indonesian pilots in an effort to develop a new tourist industry over the next few years. The end of it is that next day when the weather was dicey, and I saw a few sketchy takeoffs I elected to wait it out, there was a lot of pressure on my comrades to get me in the air, especially when the head of regional tourism dropped by to take us out to dinner.

The next day people tracked me down at a beach restaurant to see if I would fly, but I had rented a motorbike to tour the natural sights and felt somewhat guilty. The message that "you fly, and if the weather is good I will ride up and join you" wasn't what they wanted to hear. It ended up raining anyway. People came by my hotel last night to make sure I flew before I left. All friendly, but still you feel pressure. One of the pilots, a nice cop, rode by in the morning, and chatted for an hour just to check I was still interested.

Well I flew and it was not too dicey, and it was good, but bizarre when nobody would do a return trip for another flight (or a first flight, as they share turns on the town wings) because they wanted to escort me to the departing bus instead of fly again. I feel somewhat uncomfortable having my happiness be so important to the happiness of others. They would like many other westerners to come here on my recommendation, but that would ruin some of the charm I like here.

Well now I am trying to get to civilized Jakarta and then to beautiful Yogyakarta.

Working on logistics, but may stay with a Aussie flyer from sumpur in Jakarta and we have yet another contact from the brotherhood to call when getting into Yogyakarta.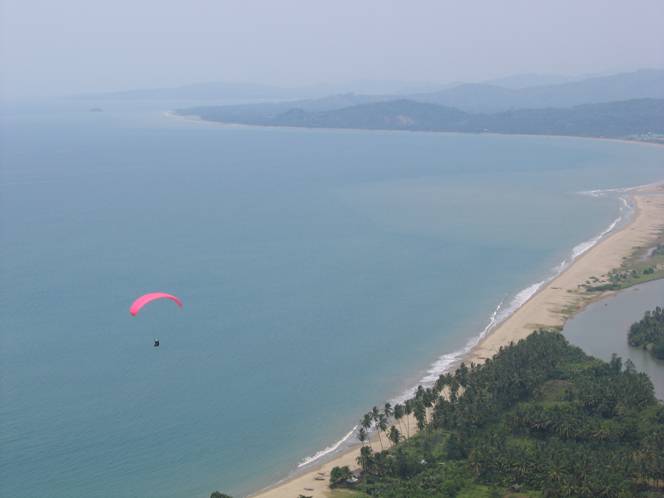 Looks like a very nice site!

2/22
Woodside
Sunny. High 14.
0%
090° at 5 knots (leeside caution)
-1.9°
/1000'
(stable)


2150 meters
6617 feet
Woodside Report - multiple flight reports from Bev & Norm, Martina & Derek. Quite a few pilots out, but too stable to extend flights past 12 minutes. Alan did not show up as he forecasted the stability and already had 3 hours from the day before!



2/21
Woodside
Sunny. High 13.
0%
060° at 5 knots (leeside caution)
-2.5°
/1000'
(unstable)


2150 meters
6617 feet
Woodside Report - I arrived at 3:00 pm, thinking it was too late to soar, but Alan and Andy were doing well.

Bev was very excited after soaring on Norm's Zoom, and she gave me a ride to Joe's to catch a ride up.

Joe had already headed with Rob, so I hitched a ride with Darren and we launched and soared with Alan and Rob for nearly an hour.

It was "my kind of lift", punchy, tight thermals with lots of strength! And lots of sink everywhere else! We thermalled together quite close for many turns before dispersing to find other lift. I finally headed out because I had to send a fax before 4:30, and the lift was "dying out", with Rob and Alan scraping below launch for 30 minutes more.

Flight times; Alan - 3:00, Bev - 0:30, Darren - 1:20 (doing extremely well in tight thermals), Andy - 2:30, Jim - 0:55, Rob S - 1:30. Topping out at 900 meters. Warm aloft. No Drift. Punchy Thermals.

We had a lot of fun :-)


2/20
Woodside later
Sunny. Gusty outflow wind this morning. High 11
0%
Light and Variable until 2:00 pm, then 080° at 7 knots
-2.5°
/1000'
(unstable)


750 meter
2500 feet
Woodside Report - after several windy hours working around the Ranch (mowing, working on the Sub, hot-tubbing), I was getting ready to change my forecast to Stay Home! But Andy, Nataliya, Alex and new student Douglas went out to the LZ to kite. It was blowing 30 km/hr at times and then all of a sudden dropped down to calm cycles? We packed up when Norm showed up and headed to launch.

Don and Leo were attempting to get to launch in Don's red van and gave up so we missed them, but we arrived at launch to reversible cycles and one by one we bailed off, Douglas and I launching last tandem. Eight pilots launched and everyone logged from 0:45 to 1:00 getting high in different places. Alex showed me where the lift was near the first clearcut below launch and it took us past 800 meters. Darren had gotten high near the towers, and was then sinking fast on the way to the Ranch when he snagged one near the bail-out swamp and he was back to launch altitude with Colleen and Norm heading for the same therm. It was a glorious day after getting blown out the past two days. A bit bumpy but not nasty, just good 4+ climbs. No collapses or tree action today.

Bridal Report - Klaus saw someone soaring Bridal Lower today, no pireps or radio contact.


2/19
Savona BC
A mix of sun and cloud. 40 percent chance of flurries. High plus 2.
0%
310° at 7 knots
-2.2°
/1000'
(unstable)


750 meter
2500 feet
Savona Report - we awoke to light snow and west winds in Kamloops. The Weather Network was promising light west winds, sowe were optomistic and drove to Savona around 11:30 am, to see 25+ km/hr gusts.

Despite the gusts we drove to Lower Launch and it was snowing harder and coming over the back.

We puched on the the Upper PG Launch and were able to drove to the parking spot and hiked in and it was even stronger over the back there.

We drove to the Toilet Bowl to see if it was soarable and it was coming straight in and Colleen was pretty sure it was "stay upp-able", but I was more interested in a nap. I dozed for a while and around 2:00 pm, I dragged myself over to the edge and it was very strong. As I got out of the truck this pilot flew in front of me low . . . with wings fully extended and within a few seconds was rocketed to several hundred meters above me and had pulled in the wings to maintain forward motion! Good thing I left the wing in the car!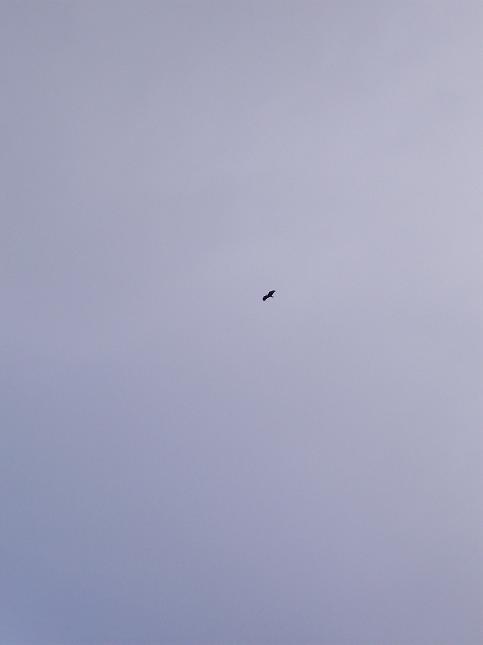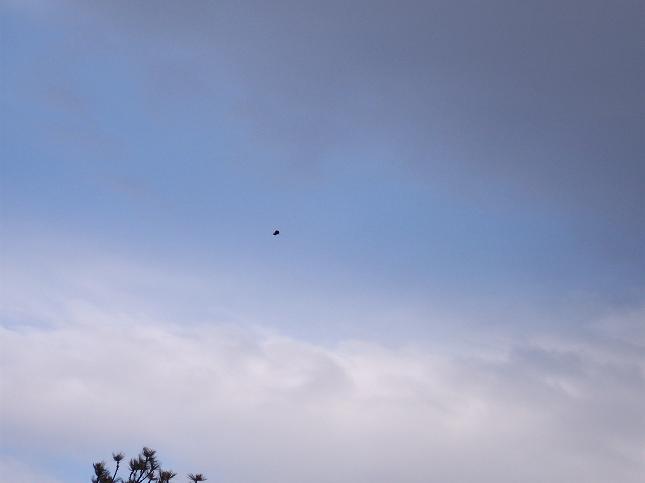 It snowed most of the way back on the Coquihalla and we arrived back at the Ranch to hear of Andy and Norm's kiting in Eagle Ranch and no flying at Woodside.

Kirill's Paramotoring Report at Mud Bay - Saturday started off good for paramotoring. The air was very textured with huge patches of lift and sink. The wind picked up in the afternoon though. I was able to go 160ft/min up with my motor idling. Spring is here! - Kirill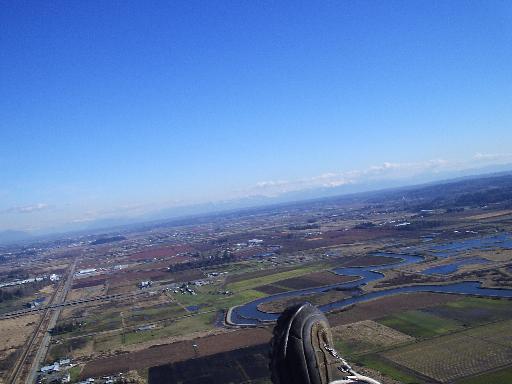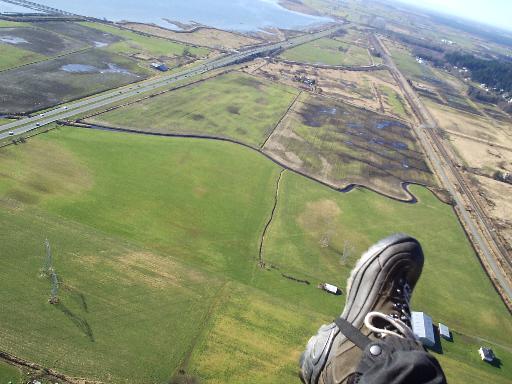 2/18
Stay Home today, or go kiting
Sunny. Gusty outflow wind this afternoon. High 13
0%
310° at 7 knots
-1.8°
/1000'
(unstable)


750 meter
2500 feet
Woodside Report - Andy, Alan and Norm all had soaring flights getting above launch quite a few times. Norm said he got "flushed" at -4.0 m/s all the way to the ground at the end!


2/17
Stay Home today, or go kiting
Sunny. Gusty outflow wind this afternoon. High 13
0%
060° at 10 knots
-1.8°
/1000'
(unstable)


750 meter
2500 feet
Indonesian Report - Sorry for the delay in writing after the flying experience, there was no internet there, and after we travelled to Bukinttingi I was a bit slowed by some sickness.

Other than a bit of sickness, I must say it was one of the peak experiences of the trip, and one of the more memorable ones of my life.

The paragliding proved to be a great entrée into community life, as we were the watched instead of just the watcher, and the interactions were therefore so much more two way and richer.

It felt like being an explorer of old, when the whole village comes out to meet you. Some of this was due to the fact that govt reps were actively promoting this site to us but also to the locals (ie don't hit the foreigners if they land in rice paddy; they will bring money.

At least 300 people were at the launch, and many more at the bottom where our landing was called out over PA (blah blah IAN blah blah CANADA blah blah..)

Some of it was due to this place being unspoilt as distant/new, and the lowered tourism in Indonesia after bombings in Bali. But some of it is just due to the nice easygoing people around here. I must say its not what expected from the worlds largest Islamic country, I thought it would be a bit more strict vibe. However this part of west Sumatra has a history of matrilineal structure and they say "here the woman is boss". That said you see some harsh stickers on mopeds (beat the bitch) so I guess not everybody is happy with that. The western pilots I met here nice, interesting, and helpful, which is great for a new site.

Bukinttingi is a great mellow town, and we have run into (thanks to the paragliding t-shirt) a few local twentysomething Indonesian paragliders. Its very cool to meet locals who are into the outdoors for their own interest not just as a job. We have had offers to go places locally, but we may move onto Painan (beach-paragliding) in the next two days. The flying was fun, but west Sumatra has big visibility probs due to slash burn agriculture in north east –it is so bad it extends to other countries - Ian Hall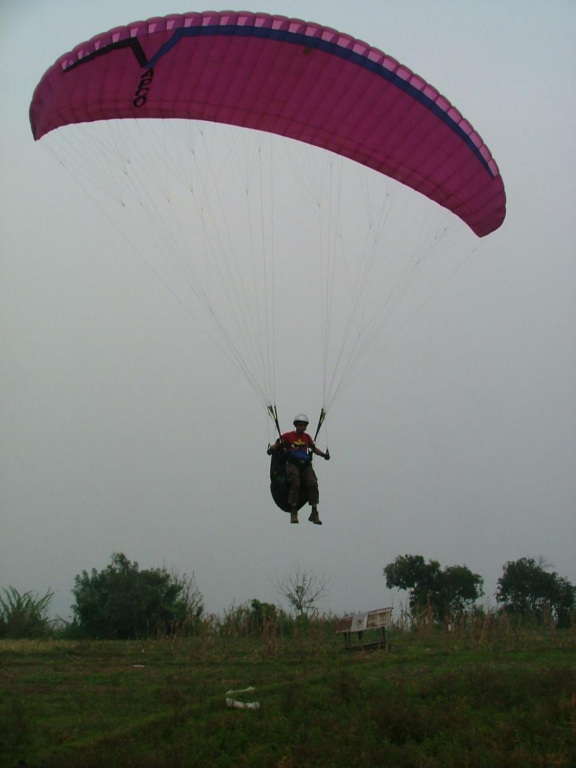 Ian in Indonesia, nice landing form!

2/16
Sumas is more likely due to east wind forecast, Strait of Juan de Fuca forecast is strong easterlies. But Woodside may work??

Sunny. Windy. High 10
0%
070° at 12 knots
-1.8°
/1000'
(unstable)


750 meter
2500 feet
Woodside Report - I had a meeting in Chilliwack early and heard Andy on the radio soaring around 10:45 am. East wind in the valley but blowing in all day at Woodside Launch.

We loaded up the Suburban after Alex and Nataliya showed up, and picked up Alan on the road. Alan launched first, then Colleen and Andy. They were soaring the south knoll and there was little drift to indicate east wind aloft. Colleen got the highest and logged 45 minutes, Andy similar times, but Alan logged 1:45. I flew about 30 minutes launching when Alan got highest and he claimed I dragged him down to the trees as a huge sink cycle got us both just after I launched. We were both doing S turns through the trees for a bit!

Alex had three flights, as did Andy. Nataliya had two flights (soaring on her second flight) and offered to drive down when we retrieved Andy's Jeep, so I flew down the last flight around 4:30 pm. Still blowing up at launch and reversible, very sunny as you can see in the attached picture.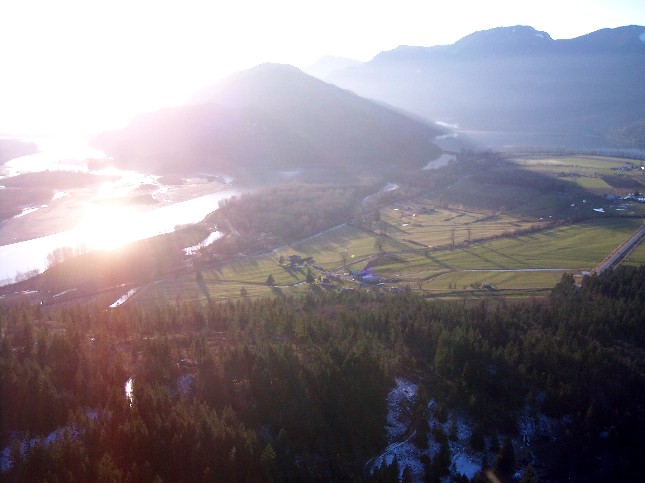 2/15
Stay Home, Andy hiked up and it was blowing strong over the back! Abbotsford is N 17 kms/hr.

Sunny. High 8.
0%
070° at 12 knots
-2.1°
/1000'
(unstable)


750 meter
2500 feet
Woodside Report - no flying the rest of day, very windy from the north through the evening.


2/14
Woodside, between showers in the morning

A mix of sun and cloud. 60 percent chance of rain showers or flurries in the morning. High 7
60%
light and variable
-2.5°
/1000'
(unstable)


750 meter
2500 feet
Woodside Report - Norm flew today as well as a lot of others, light off of launch, but Norm said he soared until he landed at 2:30 pm to go to work, he said he had fun - Bev

PS Here is Norm's cell phone number if anyone wants to call him, 604 750 0381

Martina's Report - she said like Alan, that it wasn't worth taking the wing out of the bag for a second flight . . so she drove down. Odd that there was so little lift as the CU behind launch looked huge. Webcam clip from today.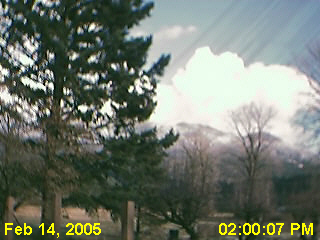 Webcam Shot


Grouse Mountain Update - Here is an update on the situation with flying at Grouse this winter.

I recently checked with management at Grouse to see if we could access the peak again now that the busy Christmas season is over.

Unfortunately they said we will have to wait until the ski season is over. Despite the lack of snow this year they have managed to keep operating by hauling snow from all over the mountain to put on the runs and using snow making whenever possible. They said they cannot have us hiking up the ski runs when there are skiers coming down and also they are running the snowmaking guns often on the peak which would make is unsafe for us to try to launch anyway. They expect the end of ski season to be around April 10 - Russ Fretenburg


2/13
Woodside, between showers

A few showers or flurries. High 6
40%
260° at 11 knots
-2.5°
/1000'
(unstable)


2250 meter
6500 feet
Woodside Report - Colleen and I arrived to find Don S, Gerry L, Jim M all trying to get warm after a 1:30 flight getting high and soaring all over the mountain before the storm cell dumped rain on Eagle Ranch.

Andy went XC arriving over Agassiz at 700 meters before landing at the Rec Center.

After the rain passed over, we headed up in Ihor's rig (thanks!) to retrieve and hopefully fly. It was very strong on launch, in fact not safe to launch so we waited and it lulled down to nothing as a cloud formed around launch.

When the cloud cleared it cycled up a few times and I flew off before it socked in again but the only thermal I hit was over the Ranch as I approached to land.

Andy, Nikolai and Josef all headed to Joe's to land near their vehicles.

It was a lucky call that it was flyable at all at Woodside as we drove through some ugly weather to get back from Kamloops! Tuesday looks like fabulous weather coming in.

Whidbey Report - We decided to go on a road trip "down South" – Blanchard and Whidbey Island. It was pretty mild on Blanchard (sledders or extended sledders), and we headed straight up to Whidbey. Stellar conditions, almost laminar wind 20-22 km/h. There were about 15 other pilots there, including two _very busy_ tandems and a guy with a small radio-controlled plane, so the traffic was pretty dense.

After struggling a bit with a reverse launch in strong-er conditions and a short but deep meditation on the technique, Nataliya launched and had an absolutely incredible 1 hour ridge-soaring flight, climbing about 60 metres above launch and managing very well in busy traffic around her. Landing was also good.

I had a lot of fun with touch-and-go launches and landings (after having to meditate on the technique as well ;-)) counting about 5 flights in total. The last flight was also the longest one. Closer to sunset wind picked up considerably, reaching 35 km/h at times, according to the pilots on the ground, so it was time to land (or to try to land, because full speed bar didn't give me any forward speed… I was still creeping back a bit). With some advice from Tom from Deimos, I performed my craziest landing ever: standing on a speed bar, pulling a very gentle B-line stall about 6 metres above the ground, and being anchored by another pilot (thanks, Shane!) to stop my wing from dragging me into the bushes.

It took two pilots to anchor each of the tandems! Lots of fun! - Alex and Nataliya


2/12
Savona

Sunny. High 7
20%
190° at 9 knots
-2.0°
/1000'
(stable)


1550 meter
5300 feet
Savona Report - I left Colleen in Kamloops where she had lunch with her sister and arrived at the Savona Dump Ridge and the wind was coming straight in but too light to stay up. The sun was out and nice CU were forming.

I then drove up to the Lower Launch and again the cycles were coming straight in, but no driver and not strong enough to stay up to top-land so I drove up to the HG launch. The road is snow covered but driveable. and the cycles were even lighter at the HG launch.

I decided to drive to Ashcroft where we were staying and drove up Elephant Hill (a Provincial Park), a bit slippery but passable to almost the top. The wind was coming in from the SW at about 15-20 kms and I hiked up the last part through snow drifts to the antennas and it was cycling up nicely. I laid out my wing on the only non-sagebrush covered spot near the highest antenna and clipped in and kited the wing up and walked to the edge of the SW cliff and launched. Climbing out I maintained for 20 minutes soaring the rock faces that face Cornwall and Hwy. 1.

The SW rock face is rugged and very pretty. Shades of green, red and yellow rocks were lit up by the setting sun as I soared in close. Some of the formations are free-floating from the mountain and look like they will crash down at any moment. I got low a few times but managed to stay up at launch height until the sun dropped below Cornwall. As the sun sank, so did I. I had planned to top-land near the road up and was heading downwind to that point at 65 kms/hr+ and getting no lift and did a U-turn and dropped in next to the road on the shale slope. After hiking back to the truck, I was elated that even as late as 5:00 pm on Feb 12 . . . it was possible to soar this mountain!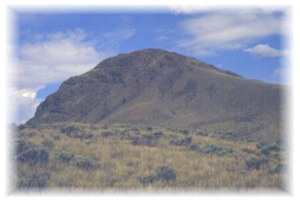 Elephant Hill, Ashcroft BC

2/11
Woodside

Sunny. High 12
0%
150° at 20 knots (leeside)
-2.0°
/1000'
(stable)


1550 meter
5300 feet
Woodside Report - stable and leeside conditions made for tougher launching conditions but quite a few flights were made. Longest flight award to Alan for 12 minutes, my last tandem with Steve from the US lasted about as long, but we flew.


2/10
Woodside

Sunny. High 10
0%
160° at 8 knots (leeside)
-1.8°
/1000'
(stable)


1550 meter
5300 feet
Woodside Report - Joe's shuttle was busy with quite a few pilots out today. No classic soaring, rather stable so pilots kept themselves focussed on their landings in Joe's backyard. Martina wouldn't even take her wing out because it looked so stable!


2/9
Woodside

A mix of sun and cloud. Clearing late this morning. Fog patches early this morning. High 9.
0%
320° at 8 knots
-2.0°
/1000'
(unstable)


1550 meter
5300 feet
Woodside Report - not an easy day for some to stay up, but Alan (2:45) and Robin (1:45) made the best use of it. Some action close to the trees but not one went in. Nice launch conditions with little drift in the thermals. The road in is less icy but still dangerous!


2/8
Woodside

Sunny. High 9.
0%
light and variable
-2.0°
/1000'
(unstable)


1400 meter
4300 feet
Woodside Report - not a cloud in the sky, and it looked very stable but we managed a few nice flights getting up to about 850 meters. Small light thermals with little drift. About 10 pilots flying, not bad for a Tuesday. The rest of the week looks good until Friday, because that is Thomm's day off. Then rain for the weekend.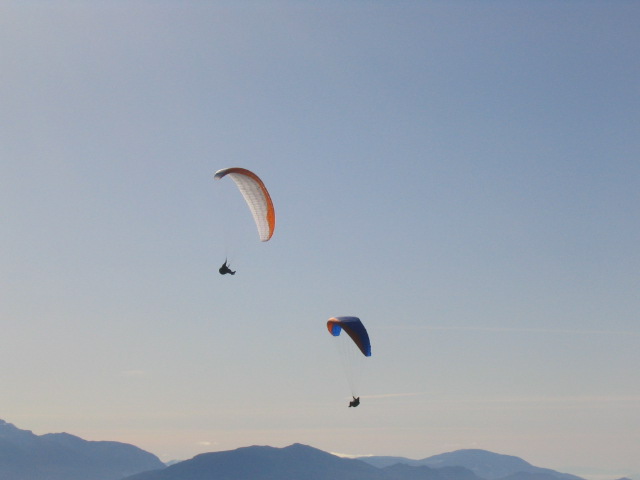 Photos by Bev


Woodside Logging Road Caution - the last 200 meters of road before the turnoff to launch is very icy and should not be attempted without chains. It is like a skating rink even on the sides, and quite hazardous even coming down in 4Low. Park at the last turnoff and hike in for safety until we can put some sand or gravel down on the worst spots.

2/7
Woodside may work later in the day

Sunny. High 7.
0%
300° at 5 knots
-2.2°
/1000'
(unstable)


1400 meter
4300 feet
Woodside Report - Alex, Andy and a few others were soaring. Alex says it was "un-describable!".


2/6
Stay Home

Cloudy. A few flurries mixed with rain showers beginning this morning and ending this afternoon. Gusty outflow wind. High 7.
40%
120° at 35 knots
-2.5°
/1000'
(unstable)


700 meter
2300 feet
Woodside Report - very windy and snowy.


2/5
Woodside
. . . if it isn't too windy!


Cloudy with sunny periods. 40 percent chance of showers. High 6.
40%
280° at 21 knots
-2.5°
/1000'
(unstable)


700 meter
2300 feet
Woodside Report - the day started slow with Windswept driving up to launch twice and reporting 40-50 km winds . . . but straight in!

We stayed down until we saw someone in the air. I was helping Colleen with the garden when I looked up and said "some one is in the . . . trees (I was going to say "air" because it looked like they were soaring and parked in a headwind). It was a bright red Gradient to the north of launch and I could see someone under the glider moving around and no one on launch seemed concerned). There was also another white wing flying out to the south knoll just maintaining, so it must be good to drive up.

We loaded up 7 pilots and wings and headed up, to be met with low cloudbase and cross conditions for about an hour. Then, all at once about 15 pilots and one lone HGer hit the air, a few were maintaining in front of launch. The red Gradient Aspen owned by an un-named pilot was out of the trees, undamaged, as was the un-named pilot.

A few brave souls headed north to the cliffs and that was where the magic air was! Robin first, then Colleen, followed by Thomm and then me. Thomm and I were the last to launch in light conditions and we were sure we were going to have sledders. But we got some good lift to the north and climbed out toward the towers, varios were all mis-adjusted and no one was sure of the altitudes but we were at the height of the towers but not high enough to jump to Agassiz Mtn. Robin and Colleen had 1.5 hours flying before heading out frozen, Thomm and I about an hour in super smooth air (Thomm was hands-off trying to stay warm).

Thanks to Justin for driving for us!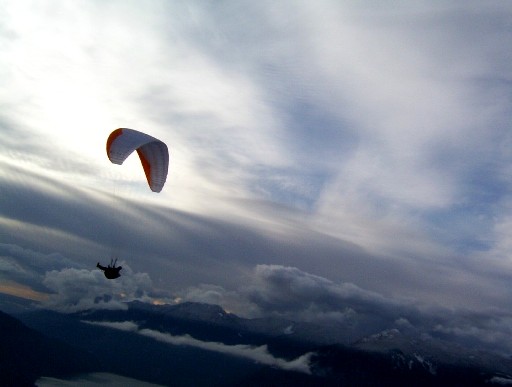 photo by Thomm McEachryn, note snowline in the distance on Sasquatch Mtn.


Vancouver Island on Saturday - The season is starting over here too, and I think we actually had better conditions for once.

Annelise, Martin and I hit Mount Prevost's West Launch at about 11:00. Very light cycles, and zero wind, but ravens were circling in thermals at least 500 feet over. I launched first and turned in zeros for a while before finding the core and milking it up to cloud base and the local limit (1068 meters) with a peak climb of 4 m/s. I tired to head out XC but found nothing and got back to the mountain at launch height. Made a few passes at launch and took advantage of the only time I've been able to look down on Annelise in years (cycles were no longer making it over the lip of the cliff so she was having a bit of a time getting off). The next minute I was getting flushed in 6 m/s sink and there was no hope of making the LZ. Bailed into a logging road and PLF-ed gracelessly as I got smacked hard by sink again from about 40 feet. I could hear Martin laughing 1000 feet above me. Instant Karma though, as he came plummeting down next to me scant minutes later. Rather pathetically, he insisted that he still kicked my ass but I say with confidence, his wing sure looks pretty from above. Looked like a passing cloud blotted the sun long enough for the prevailing North wind to give us both a quick lesson on lea side conditions.

Great thermaling flight, turned into a fully rounded fitness day with a brisk one hour walk out to the main logging road. Second flights from the middle launch were also great and thankfully without exercise. The season is here - Bruce McGuigan


2/4
Woodside between showers
Periods of rain ending this afternoon then cloudy with 60 percent chance of showers. Amount 15 to 25 mm. Fog patches dissipating late this morning. Gusty wind this afternoon. High 9
100%
300° at 37 knots!!
-2.5°
/1000'
(unstable)


700 meter
2300 feet
Woodside Report - looked a bit cloudy most of the day, and windy!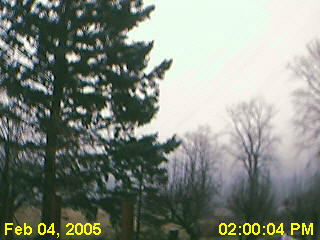 Taken from the Woodside WebCam


Dawson City Report - Hello Jim, Just checking out your site. Two of your guys . . . . Ian and Allen made the long trip to Dawson City and the Dempster Hi-way last summer and posted pics of their flights from above Dawson City. They met my buddy Steve . . . . the local paraglider here and have encouraged him to have a "Solstice" fly-in on June 21 of this summer.

There is 24 hours of daylight and last year they flew at midnight and then went for "beers" ! Steve may have a fly-in, and will be working with me to arrange some helicopter flights in to the Tombstone mountain range just north of Dawson. What do you think . . . . . . . . maybe a trip to "Canada's Yukon" this summer?? Anyways......just checking in. Looks like you have a great place at Eagle Ranch. Hope to hear from you - Cheers, Adam

Anyone interested in a road-trip in June? call me! - Jim

Ian Good's South African Adventure - Back in South Africa for a bit. This site is Sedgeview near the Wilderness on the South Coast. Wilderness is a great place to fly. There are about 6 or 7 very unique sites.

I am staying in Cape Town. A lot of great sites here too.

Will be going to a very popular xc site in the next couple of days. If anything interesting happens (distance) I'll let you know.

I should be back towards the end of Feb. Warn Bob - regards, Ian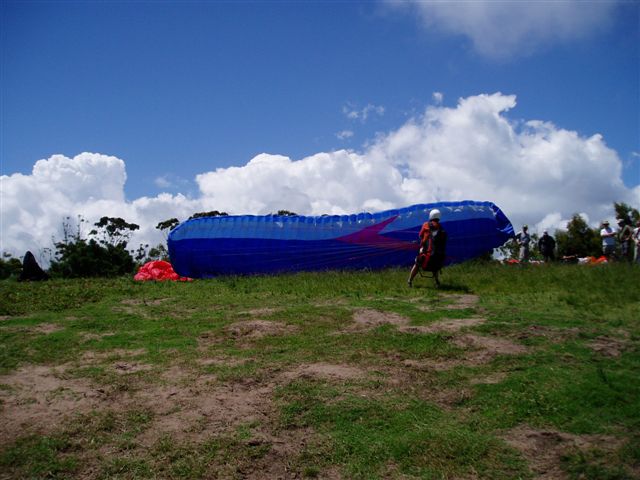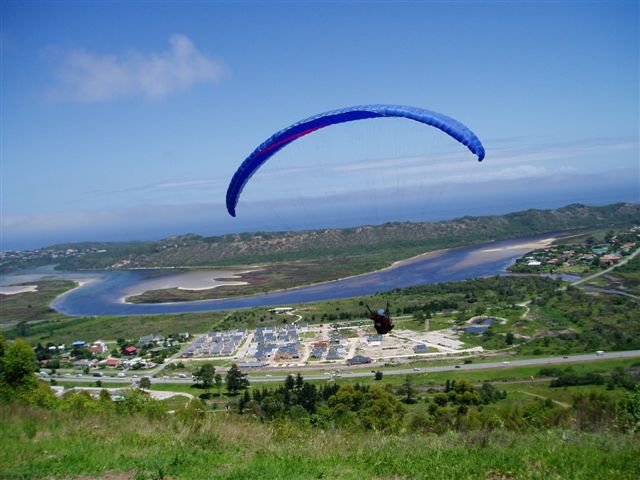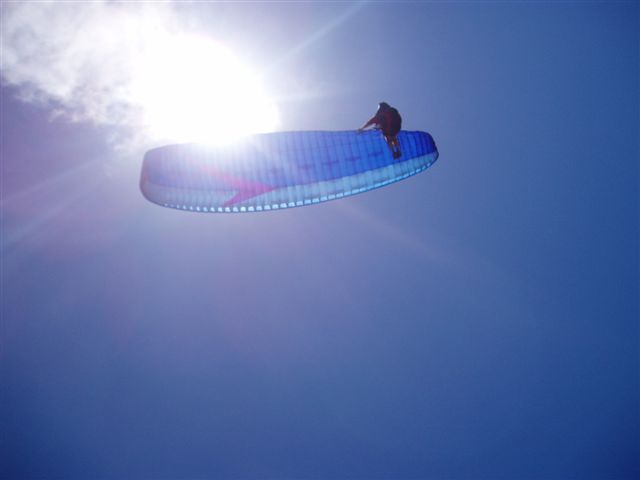 2/3
Woodside between showers
Cloudy. 60 percent chance of showers. Fog patches this morning. High 10.
60%
250° at 6 knots
-1.8°
/1000'
(stable)


700 meter
2300 feet
No pireps, but Webcam showed some sunny breaks.
2/2
Woodside
Cloudy with sunny periods. 40 percent chance of showers. High 11
40%
190° at 8 knots
-2.0°
/1000'
(standard)


1300 meter
4000 feet
Woodside Report - Andy and Rob S flew two flights, short flights despite soarable wind forecasts. Just sinky weird air according to Andy.

Elk Report - Ivan, Alan and larry hiked Elk and Alan waited four hours for the winds to subside, but had to hike down to do some chores. As he reached his car he saw Larry in the air but didn't wait around for a flight report. Ivan said it was "super day".


2/1
Stay Home
Cloudy. 60 percent chance of showers. High 11
60%
170° at 18 knots
-2.0°
/1000'
(standard)


1500 meter
4700 feet
Woodside Report - as the day progressed the weather looked much better than forecast (and the Woodside WebCam showed SUN!)

I was stuck in the office but kept watching for activity on the WebCam because I was sure Andy was out. As it turned out Andy flew two flights averaging 30 minutes each, and Alan logged 43 minutes in one flight. Alan made it 100 meters over launch a few times but kept losing it, but it is February.

La Salinas Report - Not wasting any time, Darren and I drove around the clock and made it to la Salinas in under 24hrs. (Red Bull: it gives you wings)

The weather was good to us and we flew the first 6 days with mainly onshore winds from 10 - 30km/hr and certainly a mix of thermal activity. Darren takes the mexi-title with some good flights up to 40 mins, top-landings and touch down fly-by's.

You were right that the baja had seen plenty of rain in the past few months and interestingly enough everything was green except the LZ (an exposed area of rock and pebbles) which was (not so surprisingly) good (perhaps a little SURPRISING) as thermal hot spot. As you can imagine it made for some interesting landings, close too but not necessarily at the LZ.

On flight # 6, I had a mishap on launch and PLF-ed in front of launch. Resulting in a tender ankle, which I continued to hike on but on returning to Canada found out will take 6 weeks of ground suck and a cast to heal! I'm thinking more like four! Anyhow, all in all it was an awesome trip. We end up hiking about 8500 ft, racked up about 20 flights and gained some invaluable experience . . . . For 24 hrs of driving I'm sold....

I have include a couple of pictures and also a short video of Darren scratching and finding success. Check out how low he gets.

Hope all is good and we'll see you soon - Justin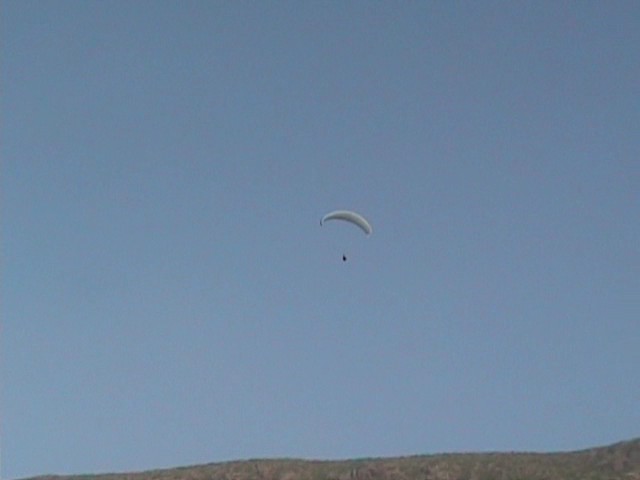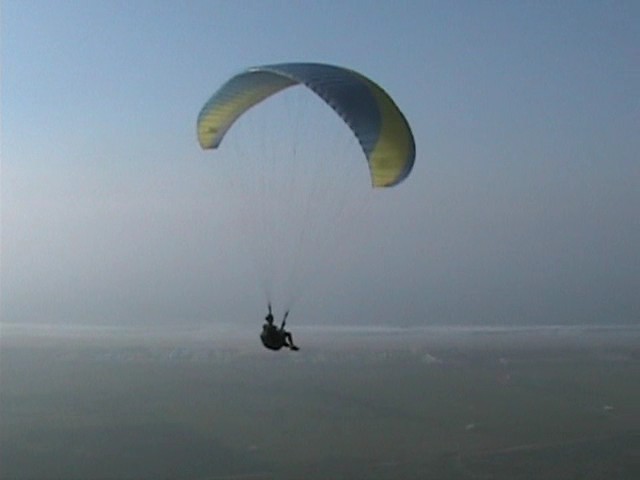 Brent's Valle de Bravo - 3rd and final installment

Thursday

Today I wanted to conquer the clouds.

I have been thermaling the thermals from the ground and ridges but never breaking through the inversion layer at about 2600m. Today cautiously launched, after double checking my latches, before the comp. Was struggling to get high at launch thermal, went to el Pinon little low but buoyant. Got to el Pinon and rode the thermal right up and over el Pinon. Flew over to the 1st rock face, still struggling under inversion layer. Went to second rock face, "place of crazy thermals" still struggling till I got to my favorite wild and crazy thermal spot. I was not disappointed it is a great elevator ride but it's "all hands on deck" after about 30 minutes of trying to break the inversion layer and about 1.5 hrs of flying a small cloud formed above me and pow! I was through the inversion layer and in the cloud suck.

An absolute first for me, got sucked up to about 3200m. Yevgeni was with me and it was time to use the clouds considerably gentle thermal as apposed to the thermals from the rock face mesa thermals. Flew back towards the LZ, hopping from cloud to cloud. Got over the LZ with over 1000m height. After 2hrs of flying we were tired and I wanted a cerveza to celebrate this great mile stone in both of our flying career. I did two gentle spirals down and landed into the LZ. WE gave each other a high five for the accomplishments of the day.



el Pinon


Friday

A blue thermal day.

The start of the day looked very stable with the inversion layer being quite noticeable. No clouds were forming and I forgot my radio in the hotel so I could not communicate with Yevgeni. We decided to fly conservatively as I could not communicate if I had a problem. It looked so stable that we doubted even making the rock face mesas. As a 2nd option was a flight over the back and to the school field behind launch. Launched, thermaled the house thermal.

But it was difficult and we were not getting high. Even the comp pilots were not coming out in droves as they normally do at start.

Boated over to el Pinon where it took a few attempts to get high over it. Sunk rapidly to the first rock face and struggled on the face for a while before I could get up. Yevgeni and I went for the second rock face and hopefully the crazy thermals.

We were sinking out very quickly, Yevgeni turnaround and had to head for el Pinon to restart the whole process again. I was lower than Yevgeni but I didn't turn around but instead went for the spine at the second rock face where I know there is a thermal it is just a matter of hitting rotors first. I approached cautiously and as wide as possible to stay clear of the rotors.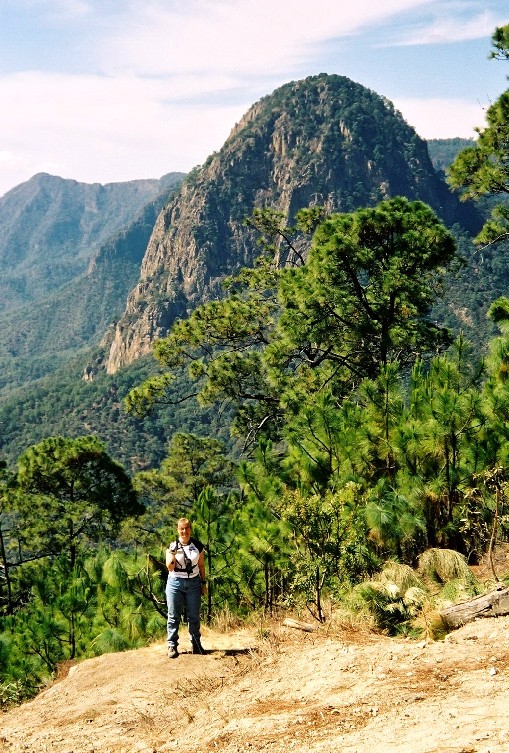 el Pinon and Lucille!


They weren't too bad and I was rewarded with my favorite elevator thermal. It was not an easy ride as the thermal seeded to be moving around. I fell out of it several times and had a hell of a time to find it again. I even had to back low to the rock face to find it again. I was ready to give up after about 1.5 hrs of struggling. Yevgeni was also struggling so I thought I might as well try fighting it as long as I could. Still no clouds above, I could see the inversion layer above me as I made a final effort to get up. Finally getting up to over 3000m but still no clouds. Yevgeni also finally made it up high and we shouted to each other that we should try to make the LZ.

Flying towards the LZ with no cloud street was nerve racking, as I didn't want to sink out and land in the middle of nowhere with out a radio. Surprisingly enough the thermals where still there, but no clouds to mark them. A real challenge, to hook every thermal you feel is big enough because you don't know where the next one will be. Eventually got over the Valley behind launch and could see the clouds forming. Flew straight over to one and got sucked up to a hair under 4000m. We flew towards the lake in the cloud street over the valley. It was fantastic and relaxing flying, after 2 hrs of "crap" thermaling we were rewarded with this wonderful flying. After about 1 hr of cold cloud flying and with the time approaching 3 pm we decided to land before it got to wild at the LZ. 3hrs and 15 minutes of great flying.

Both of us were completely satisfied that we had the best week of flying in our lives and that our flying abilities have improved exponentially in the last week. I have lots of photos in the air and a short video from my camera while flying.

Viva la Mexico! - Brent


1/31
San Marcos or Valle, MX


Scattered Clouds. High: 78° F / 26° C Wind WSW 6 mph / 10 km/h


0%
Mexico: light and variable


Mexico: -2.5°
/1000'
(unstable)


Mexico: 3200 m
10400 ft.


Woodside Report - Alan said it looked too windy to fly early in the day, and reviewing the web cam did not show any pilots soaring so he was probably right.

Normando update - the last Mexico XC he flew was 64 kms+, and it was a dog-leg route over which he covered over 100 kms. He had to take a bus to Guadalajara, and a taxi back to Tapalpa costing him 550 pesos!