January 27-Feb 1
Little Nick (hike and fly)
Snow all week!
100% POP
080° at 14 knots
-2.0°/1000 feet (standard lapse rate)
It snowed and rained pretty well all week. Saturday may be better.


January 26
Jocotepec, Mexico
the first hazy day in two weeks!
0% POP
light and variable
-2.5°/1000 feet (better lapse rate)
Mexico Report - We all drove to Guadalajara to drove Lucille off at the Bus Depot for her trip to Puerta Vallarta and Yelapa, us to the aeropuerta to fly back to Vancouver. We arrived back in Vancouver to SNOW! Where are we gonna fly tomorrow???

Ian and Alex's Excellent Australian Adventure Report - So, My excursion is coming to an end.

Alex busted North a few days ago from Newcastle where we parted ways. We had a few good days in Manilla but got weathered out with t-storms freight- training through. Of course, epic flights were reported a few days after we left. The flying we did was sweet though, just no major distance. Manilla is organized bigtime as far as flying goes. Rides to launch, food, and lots of beer in place as the local economy is quite dependant on airsports....PG/HG/Sailplanes/trikes. Cheap rooms and camping at 1/2 price for pilots. Awesome food cheap. Beer 2.80 Au /pint...that's about 2.20cad.

From Manilla we headed back out to the coast in search of some more dune flying. We ended up at Lauriton on the central NSW coast. This place was sweet with about 15 nice sites within 15 minutes of town. The locals were good to us. We had to join their club but it was only 10 bucks. Alex was chomping at the bit to move on as he was a bit shaken from some harrassment from a sheila named Linda. We were playing pool one night at the local pub and ended up on a pub crawl with two of the locals. I of course didn't partake but Alex was in party mode so I got dragged along for the ride. Enough said...we survived.

Newcastle was our next stop for a few more days of excellent coastal flying. We didn't see any other pg'ers in Newcastle and were told in Sydney that pg'ers weren't welcome in Newcastle but we were treated well and made welcome. Flying is right downtown and is about as consistant as we saw here.

My time was running out so I dropped Alex off at the main coastal highway as he was hitchin' North and I made my way back towards Sydney for a few final days at Stanwell Park. Flying had been spotty the last few days with bad weather but I squeeked out at least 2 hours a day and 3.5 yesterday.

The locals are great here and the energy between hangies and PG's is smooth. I spent my time this week staying with some friends I made on my way through a few weeks back and enjoying the warm temps and sweet flying.

Anyway, my flight is Sunday...shit. I'd happily spend another 6 months here. Buying a combi / camper van is the way to go down here. There's so much ground to cover I hardly scratched the cervix. All said, it's been a great trip.

See y'all in the snow next week - Ian J.


January 25
Jocotepec, Mexico
Sunny all day!
0% POP
light and variable
-2.5°/1000 feet (better lapse rate)
It was our last flying day so we flew Joco in the morning after a big breakfast. Then over to San Marcos for a nice thermal flight for Lucille and I until about 4:30 pm with us landing on the salt flats below launch in strong South winds.

Then as we headed back towards Joco for dinner I decided we should take Colleen up for a flight off Joco launch because the wind was so strong from the south.

So off she went towards Ruben's with me following down the ridge in smooth lift close in to the mountain. We landed short of Ruben's but had a sweet flight landing near Lake Chapala.


January 24
Jocotepec, Mexico
Sunny all day!
0% POP
light and variable
-2.5°/1000 feet (better lapse rate)
Glen's last day so we went flying again. Joco launch first for Lucille to fly here for the first time, she was the wind technician and had a mellow soaring flight landing on the shore below launch.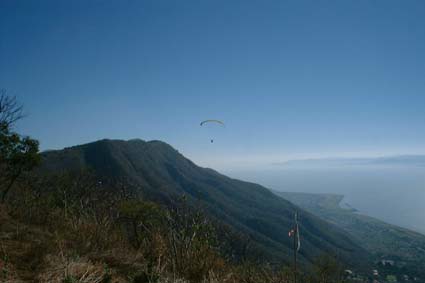 Colleen then launched and climbed out quickly before trying to fly to Ruben's Grill. Glen followed her and they all landed on the shore of Lake Chapala as I drove down, no more hairy top-landings for this trip.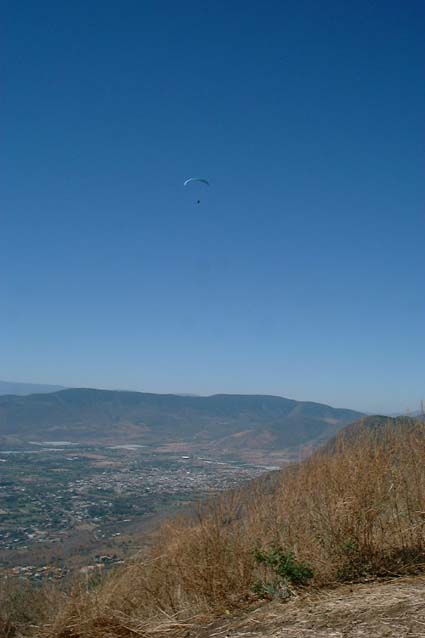 We packed up and headed for San Marcos launch and flew earlier so we didn't get trashed too badly. I am really enjoying the opportunity to test the Presta in the rough air and today was an excellent example. I said that I would fly first and then try to top-land and as I was approaching the lower launch at about 30 meters off the peak, I hit some converging air that caused a full collapse which fixed itself before I had time to react. No top landing on that pass.

The others had launched except for Lucille and I kept trying to get above the upper launch but it was too light, so I kept going up and down in nice thermals until I cought a nice one that was smooth and it was drifting me towards upper launch. I approached the lip of launch in a downwind soaring approach and popped over the lip for a smooth landing. Lucille could now fly as the French Group showed up to fly.

We were able to get to dinner early, no landings in the dark, no hairy top-landings and the Margaritas were smooth at Ruben's. We finished the chocolate fondue and fruit before bedtime.


January 23
Jocotepec, Mexico
Sunny all day!
0% POP
light and variable
-2.5°/1000 feet (better lapse rate)
Another busy day . . . breakfast at the Waffle House, then on to Joco launch above Lake Chapala. I launched first at 12:00 in strong cycles and climbed high above launch as the others contemplated flying.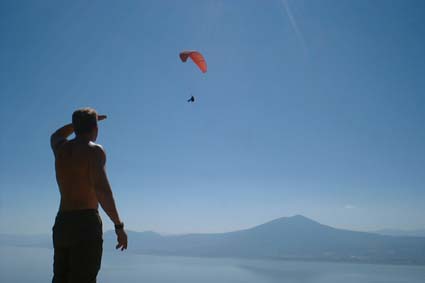 I decided to top-land in a field behind launch so that everyone could fly as Glen launched, I heard him saying it was quite rough down low and he piled into a field on landing below launch.

My toplanding was a handful as I broke thru the rotor and thermals were kicking off the boulder filled field. I survived by doing a full sprint on landing.

The ladies decided not to fly and I relaunched and was sucked up off launch and headed west towards Joco town and was able to maintain above town in thermals off the road.

Colleen and Lucille picked Glen and I up at the Pemex where we were having a snack and we headed to San Marcos launch to the west. We had a small oil leak On the way up to San Marcos I discovered another oil leak because the bolts on the oil sump were missing. I dropped Glen, Colleen and Lucille at launch and went on a quest for parts and was able to find matching metric nuts and a wrench in Los Pozos just below launch and was back on launch before anyone flew.

The idea was that everyone was going to fly and I would top-land to retrieve them as they were heading over the back toward Joco. One small problem developed in our plan . . . as it got later the lift got stronger, glassing off into huge thermals. Glen was at 2900 meters over the salt flats trying to get down. I made several passes at launch and was being blown up and back with big-ears.

It was getting dark and Glen appeared below launch with ears and declared he would be landing soon, and popped up above launch and started getting trashed about before touching down softly! I yelled at him to turn on the car lights so I could see launch and also top land, but it wasn't going to happen - just too much lift. I even did 2 B-stalls to try and get down to launch and was immediately lifted above launch anytime I got near.

I bailed on top-landing because it was too rough and too strong and started flying out towards the LZ. It is now dark out and the lights of the surrounding towns were beautiful, I took some pictures with the regular camera and hope they turn out.

I was over the LZ and still going up and it was trashy near the hill, it is very strange going through a manuevers clinic in the dark, you can;t see what the wing is doing!

I pulled big-ears and full speed bar to get down and was in the middle of the dry lake bed when I realized that the 3/4 moon was illuminating the sand, and I could see fences and powerpoles to help make my landing decision. I had to maintain the ears until just above the ground to maintain stability in the trashy air. I saw my shadow on final and it helped me judge my landing flare and I had a smooth touchdown.

The local kids were on scene folding my glider just like during the day and guided me off the lakebed past the bonfire they were playing around, of course I had to buy them some refrescos that night.

Glen picked me up and we went to find the girls at the Pemex where they landed before dark.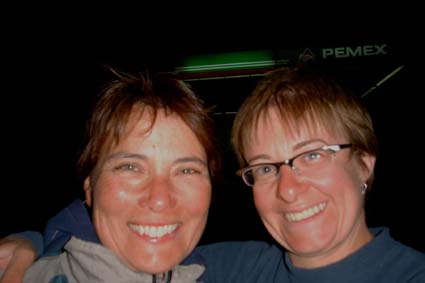 We then headed for late dinner at a roadside taco stand and home for chocolate fondue.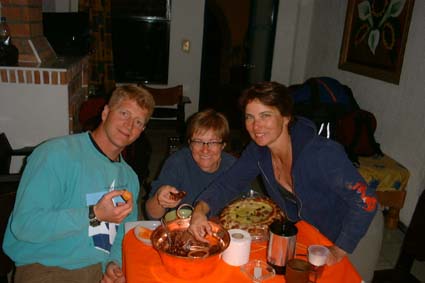 January 22
San Marcos, Mexico
Sunny all day!
0% POP
light and variable
-2.5°/1000 feet (better lapse rate)
Colleen, Glen, and Lucille all launched at Tapalpa launch with the goal of heading north to San Marcos. The day was hazy and light and the girls landed in Tepec, with Glen in the LZ. I picked everyone up and we headed to Joctepec to find a new hotel before heading up to San Marcos launch to fly for the evening flight. We were heading up the road toward San Marcos when the oil light came on the VW. So we stopped to check what happened and found out the new VW has an oil filter hanging down which had been slashed open by a rock. I coasted the VW back to town to find some oil and a new filter, oil was no problem but the filter was!

I hitched a ride into another town and a local guy drove me to Acatlan 16 kms away to find a filter, and returned me to the car with a filter wrench to remove the bad one. Try breaking down in Surrey and getting a lift to get your car fixed (it just wouldn't happen). No flying as we headed to the bar to get dinner.


January 21
Tapalpa, Mexico
Sunny all day!
0% POP
light and variable
-2.5°/1000 feet (better lapse rate)
Glen T, Lucille, Colleen and I launched at Tapalpa at 1:00 pm and were able to climb out behind launch and soar around in rough wind-blown lift. Lucille disappeared into the sky climbing to 3500 meters while I grovelled down at 3100 meters. Colleen sacrificed her flight and top-landed so we could keep flying and she would retrieve us in the VW.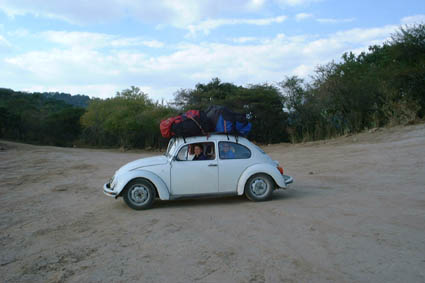 Glen also top-landed after Colleen.

Lucille and I landed in the same field as two days ago near La Frontera and Collen picked us up. We re-assembled back at launch at 2:30 and watched some pilots having trouble maintaining as the wind switched to cross from the south. Glen and I re-launched and were scratching the treetops on the way out, but we found a thermal to take us over launch.

We had set goal as Sayula, a town 10 km south where we could get lunch and as I set out towards Sayula, I hit some sink and I was halfway between Sayula and the LZ at about 150 meters AGL when I hit a sweet thermal that ended up taking me back to 3100 meters. Glen joined me and we headed towards Sayula over the main highway, hands up straight glide with the varios beeping steady 0.5 m/s lift all the way. Glen was not satisfied with the straight glide so we climbed up to 3500 meters in a thermal on the way.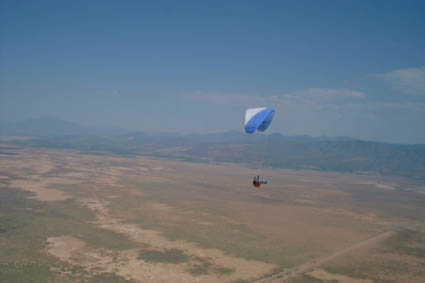 As I set out on glide again I lost Glen above me and I thought he bailed but he was staying close just above me trying to figure out my landing intentions. I chose a nice field about 5 blocks from town and we had smooth landings. A group of local kids helped us pack up and carry the gliders out to the waiting VW. Glen couldn't stop smiling!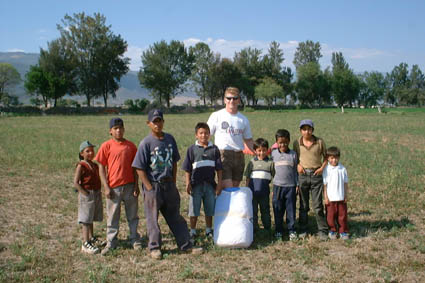 January 20
Tapalpa, Mexico
Sunny all day!
0% POP
light and variable
-2.0°/1000 feet (standard lapse rate)
Today is the Acro Show for the spectators and many of the comp pilots dazzled us with SATs, wingovers over the crowd's heads and down wind passes 6 feet over head. Christian Maurer did an awesome SAT, into helicopter both directions then into a full stall before climbing back up over launch.

Before we could launch it blew over the back so Colleen, Lucille, Greg and I headed to San Marcos to arrive there for a nice glass-off flight at 4:00 pm.

It was howling when we arrived but I talked Greg into launching and he got above launch and then top-landed complaining that it was bumpy, so Colleen launched and made about 10 turns before flying over the back towards Ajijic (where Bob White lives). When we last talked to Colleen, she was at 2600 meters flying over Joco launch heading east.

I launched on the Presta and soared for a while and top-landed so the rest could fly as I would drive down to retrieve them.

Greg relaunched on the Presta and climbed out doing some stunts, wingovers and frontals as Lucile got ready to fly. They both got above the hangies that were flying San Marcos, as well as some Pgers that must have all come from Tapalpa too.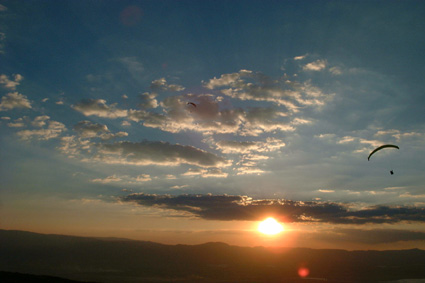 Greg on the Presta up high!

We found Colleen at Ruben's Grill in San Juan Cosala (a 24 km XC flight), after picking up Greg and Lucille from the LZ.


January 19
Tapalpa, Mexico
Sunny all day!
0% POP
light and variable
-2.0°/1000 feet (standard lapse rate)
Last Day of the PWC and they called a 55 km task north to Juanacita, back to the Microwave towers near launch and then west to San Martin just near Tapalpa town. Great task for the spectators as the competitors had to fly back over launch 45 minutes or so after the start. Some arrived very low and had to scratch back up so it was great action to watch. Colleen and Glen Taylor launched and flew out front getting high behind launch. I launched after the first wave came by and climbed out above launch to 2900 meters and headed north to try the task and as I got half-way I saw many pilots landing near turnpoint one. So I went back to launch and climbed back up before heading west. I saw Colleen and Glen top-landing before I headed west to arrive at the hill just east of goal but had no GPS coordinates for the actual field and could not get a visual fix so I waited there for some other pilots to fly by.

Soon Chris Muller arrived with a Swiss Boomerang pilot racing towards goal, but not that high (but higher than me) and I watched them disappear behind the hill as I hit sink and had to abandon my plan to meet them at goal, but I did have a great field picked out by the highway for easy retrieve. Lucille headed over the back as I landed and also landed in the same field as Colleen arrived to pick us up.

I heard Greg talking to Amir over goal after Amir attempted a SAT and twisted up the risers about 10 times before sorting it out and landing with sore ribs. Amir was heading back to Victoria soon after the comp.

There was a large post-comp party in the old church in Tapalpa with booming techno music and lots of ponches (the local moonshine). First place went to Scotty Marion (Gin), second to Alex Hofer (Gin) and third to Christian Maurer (Advance). Chris Muller placed 8th in a tough comp also flying a Boomerang.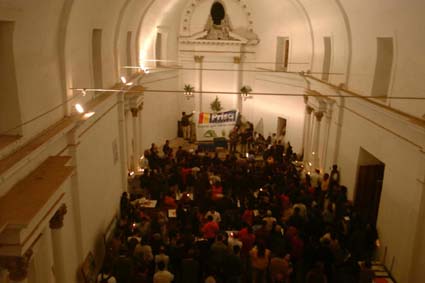 January 18
Tapalpa, Mexico
Sunny all day!
0% POP
light and variable
-2.0°/1000 feet (standard lapse rate)
Now it is my turn to be sick but it was definitely the alcohol! Hung over all day so I just watched everyone else have fun. The Task Committee called a shorter task today with a turnpoint over the flats behind launch with goal 7 km behind launch, for a total of 53.7 kms. It sounded pretty easy but many pilots had to land getting low over the back. Another glider in the trees, onepilot had to throw his reserve over goal when he blew out his lines stunting for the crowds.

Many pilots made goal with Chris M being 4th place. He nearly didn't fly because his canopy was torn from a bird encounter the day before!

Colleen was back in the air and had a great flight with many low saves but it got windy and she couldn't make it back to launch and I was too sick to retrieve her so she caught a ride with 5 other pilots in the back of a truck filled with pig carcasses, quite smelly I was told.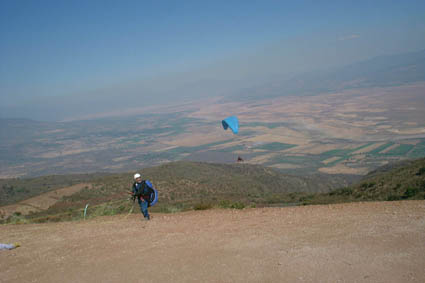 Tihi was driving retrieve from goal with the Suburban and found new innovative ways to take more passengers!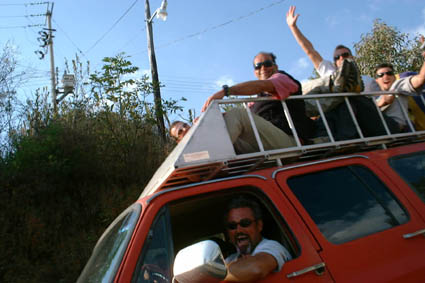 January 17
Tapalpa, Mexico
Sunny all day!
0% POP
light and variable
-2.0°/1000 feet (standard lapse rate)
Another day at Tapalpa and it is sunny again, but looking a bit inverted. We watched the comp pilots get off, quite a sight seeing 120 gliders getting airborne at once! Especially when a few of them hit the trees off launch and need help getting back up the hill.

Colleen was suffering from Montezuma's Revenge back at the hotel, so I hitched a ride with Muller's and flew after the comp start time. Greg got away on course and Lucille and I stayed closer to launch flying in some of the late gaggles. It is pretty amazing to have 10 gliders all turning so close yet all climbing at the same rate tracking the core.

I headed north on course while Lucille was getting flushed out front and I gave up after watching the competitors fighting for every scrap of lift close to powerlines and a long way from any retrieve so I got lazy and decided to head back to launch. I arrived low and had to find a thermal fast or I wouldn't even make the LZ. There is a set of bumps out front that always seem to work and I met a turkey vulture ther this day and she showed me the way back up above launch.

I was able to climb out and I decided to top land to get back to check on Colleen and was in in one pass missing the 10 gliders laid out on launch. I saw Lucille geting high out front and to the north and encouraged her to top land too so we didn't have to retrieve her and she made a beautiful approach into the field behind launch. We packed up and were on the next bus back to town by 4:30 pm.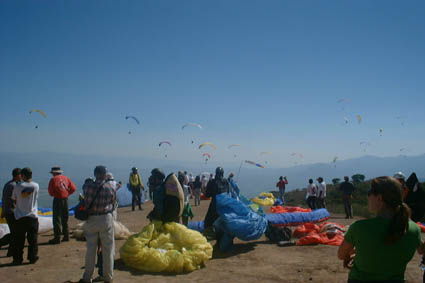 January 16
Tapalpa, Mexico
Sunny all day!
0% POP
light and variable
-2.0°/1000 feet (standard lapse rate)
Day 4 of the PWC and again stable conditions at Tapalpa. Task was set for another out and return for a 66 km task over the flats. Many competitors never even made the start cylinder which opened 1 hour after the launch window.

We all flew and had pretty nice flights, just couldn't go on course because it was so light near the ridge north. Bob White and a buddy from Ajijic showed up and flew with us. One comp pilot in the trees and another reserve toss rounded out the day which was later made invalid because no one made it past the 40 km validation point.




January 15
Tapalpa, Mexico
Sunny all day!
0% POP
light and variable
-2.0°/1000 feet (standard lapse rate)
The Comp was on again in stable conditions and it was a 77 km out and return ending in a little town near San Marcos launch. As the last competitors launched and we were able get ready it started blowing down.


We headed to San Marcos because that launch faces west an as we arrived it was also blowing down, but Greg and I set up anyway. After 5-6 tries we got off into nice leeside thermals and climbed out. It was a bit rough in the air but the Presta stayed firm and I was able to pull a few frontals, the pressure is like pulling a B stall and the glider curls under a bit but doesn't deflate. No one else flew.
January 14
Tapalpa, Mexico
Sunny all day!
0% POP
light and variable
-2.0°/1000 feet (standard lapse rate)
Day 2 of the PWC and they ran a 62 km task. Tough going, no one made goal. Pilots were scattered all over the course. Two reserve deployments over the start point, one in the trees was scratched a bit and the other was taken away on a backboard.

I flew two flights on the Presta, the first was trashy lift and very windy before the competitors started launching. It was hard to find any core that would not place me over launch where I would not be welcome with 120 pilots trying to get airborne so I flew out to the bumps in front of launch and there were three pilots scratching around trying to find lift (Bandit, Gradient Saphir and an Omega 5), we all made valiant efforts but to no avail as we were all on the ground at roughly the same time. The difference was that the Presta made it into the LZ and the rest landed short by 1 km. Good glide at speed.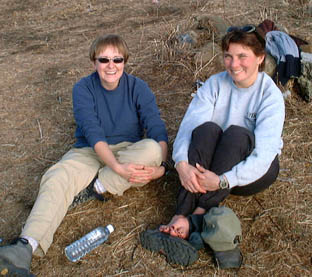 The second flight I arrived at launch to see Lucille and Colleen climbing out above launch while the competitors were returning from one of the turnpoints south of launch, both girls were above the gaggle and they said it was quite rough behind launch so they decided to head out for the LZ, both climbing out over the flats in a thermal which marked it well for a bunch of comp pilots that headed over that way. They both made the LZ easily, which was the goal line for today.

I launched right after Mike Miller and climbed out over launch quickly on the Presta, and it was rough behind launch. I have the turn rate dialled in now and the Presta was very efficient in working the lift. I was about 500 feet over launch when I got hit with a big gust from the right which threws the glider to the left and I felt the lines going slack on the left and I looked up to see what was happening and the glider was still rock solid (hmm . . . this is going to instill confidence in new pilots).

I measured trim speed with a Brauniger IQ-Comp vario and at my loading 104 kgs on the Medium Presta I was flying 38-39 kph, I did not have full speed bar travel but I was making 47 kph with what I had.

After collecting Chris Muller from his landing spot we all headed back to party in Tapalpa - Jim


January 13
Tapalpa, Mexico
Rain and lightning!
100% POP
light and variable
-3.0°/1000 feet (awesome lapse rate)
Colleen and I arrived in Guadalajara at 6:00 AM and as the plane was landing there was lightning all around us. As we deplaned the rain started and it was just like Vancouver! Great start to a holiday when you want to fly. It was hard to see the road as we drove south to Tapalpa but as we were near the turnoff to Tapalpa the rain stopped.

We met Margit and Amir at the hotel and she told us of great flying in Valle where she skyed all the guys out on her new Fiesta. We went to the comp headquarters to volunteer as wind dummies for the comp but they didn't need us as there were 20 pilots that didn't make the cut. So we followed the group to San Marcos to watch the action. The trusty VW Bug we rented made it to the top no problems amazing people who couldn't make it in 4WD trucks.

Greg, Lucille and I flew before the start and had pretty good flights getting above the peak at san Marcos but as the mountain shaded in I got daring and headed south over the gap getting trashed all the way south toward the sunny slopes so I flew out to land on the road below. Some locals pulled out some toilet paper making a wind ribbon to help me land, great folks.

Lucille and Greg landed after me and we hitched a ride up with the locals, Colleen stayed at launch to watch the action as she was tired from the trip.

The comp pilots launched on their first day and were required to fly out over the valley to the start point before doing a 60 km out and return landing at goal north of launch. Tough going as we saw many pilots very low even before the start time. Quite a sight seeing 120 pilots in the start gaggle.



The Presta at San Marcos - photo by Colleen.

When we arrived back at launch for our second flight we heard of several pilots getting blown over the back at launch because it was gusting up to 35-40 kph at launch. We launched in some lulls and had a sweet ridge soaring flight until dark landing with a bunch of hangies. Greg H was SAT'ing into the LZ as I tried to pull frontals and make the Presta fail to no luck.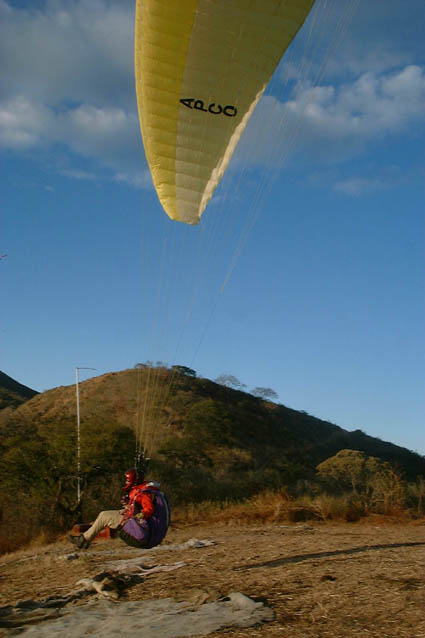 Lucille launching her Allegra at San Marcos - photo by Colleen.


January 12-26
Tapalpa, Mexico
Sunny all day!
0% POP
light and variable
-3.0°/1000 feet (awesome lapse rate)
Colleen and I are in Tapalpa, Mexico for two weeks and we will post flight reports as soon as we can get on-line, stay tuned!

APCO Presta (all new DHV 1-2 glider) - with closed valve system new for 2002! New Pictures on the FlyBC Used Page page.

Demo Medium Presta is in my hot little hands now. Book your free demo flights now!!

Check the FlyBC Used Page for sale specials! We have many new gliders in stock.


January 11
Stay Home
rain developing pm
90% POP
170° at 28 knots
-2.0°/1000 feet (normal lapse rate)
The weatherman was wrong, or at least delayed. I am sure Woodside was soarable all day, the upper levels looked westerly and it didn't start raining until late evening. See you in a few weeks - Jim
January 10
Woodside
Fog in the am, rain developing pm
70% POP
180° at 13 knots
-2.0°/1000 feet (normal lapse rate)
No pireps, but it was wet in town all day - Jim
January 9
Sumas
Fog in the am, sunny breaks pm
30% POP
130° at 13 knots
-2.0°/1000 feet (normal lapse rate)
Woodside Report - I had to go to Hemlock to do some work on the condo anyway, so I went by Woodside as the sky opened up a blue hole over launch. Cycles were coming in occasionally and I was able to maintain a few turns in front of launch in a developing mist (very pretty). I elected to land at Bill Best's field to save the hike and tested the Presta all the way out; B-Stalls, wingovers, assymetrics, big-ears, spiral dives and still had +800 feet over the field when I arrived. Bill Best's can be a bit rowdy in NW winds I found yesterday, but it is large enough to find a safe place to put it down - Jim
January 8
stay home, Wednesday looks promising
Cloudy with showers. Showers heavy at times this morning. Risk of a thundershower. Further rainfall amounts of 10 to 15 millimetres. Windy. High 12.
100% POP
280° at 14 knots
-2.0°/1000 feet (normal lapse rate)
Rain rain go away . . . . come back another day (two days and counting to Mexico)- Jim
January 7
Cochrane AB or stay home
Rain heavy at times. Further rainfall amounts 20 to 40 millimetres. Windy this morning. High 14.
100% POP
260° at 33 knots
-2.0°/1000 feet (normal lapse rate)
Rained all day in Coquitlam.
January 6
Cochrane AB
clear
0% POP
290° at 33 knots later!
-2.0°/1000 feet (normal lapse rate)
Cochrane Report - Colleen and I arrived at 2:30 at Muller's and it was pretty windy as we saw the Chinook Arch form west of town. Some brave souls were out kiting and getting dragged around and a HGer had a sled ride on a Falcon. Once we saw that it wasn't getting any stronger I dragged out the Presta M and went flying after I threw Colleen off on a borrowed Simba S. There was a Futura 32 (with a big wake) and an Airwave Sport sharing the ridge and we flew until official dark and top-landed. The Presta is quite solid in the air, it was turbulent in places and surges were occurring but the Presta stayed firm. I played with the brakes over the top landing spot and could really slow it down to park over the intended landing spot, no evidence of impending stall. We really lucked out as the forecast was for 60 km+ winds.

Tapalpa Report - Margit is in Tapalpa Mexico flying with Amir and she logged 30 minutes on her first flight and was exstatic with her new Fiesta. Amir flew at San Marcos and got trashed, only a few brave Mexicans flew too and they all got flushed down to the lake bed with lots of collapses!
January 5
Cochrane AB

Woodside looks rained out :-(
clear
0% POP
290° at 15 knots!
-2.0°/1000 feet (normal lapse rate)
Presta Report - I flew the Presta off a hill behind my mom's house and had a little soaring flight. Handling was nice and crisp, nice sink rate kept me above the ridge for a few passes.




Then Colleen flew off in lighter wind and had a little soaring flight too!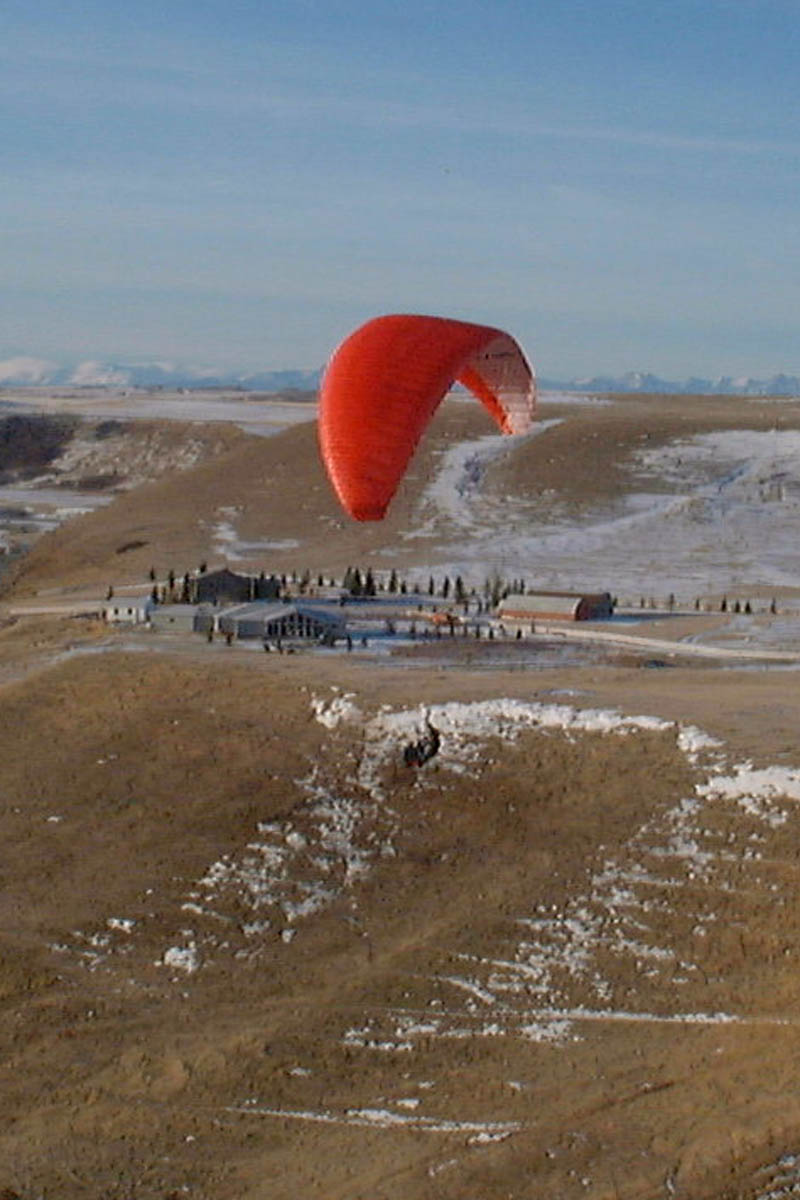 January 4
Woodside
cloudy
30% POP
140° at 16 knots!
-2.0°/1000 feet (normal lapse rate)
No flying as Woodside was covered in with cloud you couldn't see the lz - Bev
January 3
Woodside
scattered rain showers thru the day
30% POP
210° at 19 knots!
-2.5°/1000 feet (unstable lapse rate)
Woodside Report - Glen T told me that he and Allan D were heading out to hike and fly Woodside around 12:00. I headed out after 2:00 to arrive at the parking area to take Allan back up as he got a 10 minute sled ride in a northerly flow. I waited for Ian J and we all drove to launch and arrived to see gusty conditions. I was talked into flying and had a bit of trouble penetrating without trims opened! Once away from the hill it smoothed out, some thermals and definitely windy all the way to the Crash Pad. Only got 35 minutes as it was going to be dark soon. No one else launched - Jim

ps: picking up the new Presta M tomorrow in Calgary. It should be available for test flights next week.
January 2
Woodside or stay home
locally windy, rain showers thru the day
60% POP
160° at 35 knots (yikes)!
-2.0°/1000 feet (standard lapse rate)
Pretty windy all day in the valley, no flight reports received.
January 1
Happy New Year!

Sumas or stay home
locally windy
40% POP
150° at 35 knots!
-1.0°/1000 feet (inverted)
Starting the Mexico Count Down - 10 days and counting!
December 31
Happy New Year!

Sumas or stay home
raining until later, locally windy
100% POP
130° at 16 knots
-1.0°/1000 feet (inverted)
No flying, low cloudbase and rain in town all day :-(