7/31
Woodside
Sunny with cloudy periods. High 27
0%
Light and variable prior to 2:00 pmn, then 280° at 13 knots
-2.4°
/1000'
(unstable)
1600m
5100 ft.
Woodside Report - as forecast the winds got stronger after 2:00 pm. We had a few nice flights before 2:00, then I finished the last BFAR tandem over here at Woodside with Ernie from Chilliwack. He had been out three times, once at BFAR and another time at Woodside so he was well briefed and ready to fly. We climbed up to 900 meters and soared the front of Woodside for 30 minutes, then headed to Cemetary Hill because the wind on Harrison Bay was looking ugly. All the while Ernie was videoing the flight, and some of the comments are interesting on review. We hit Cemetary Hill near the base, climbing up to the top but couldn't climb higher than 500 meters, so we headed in to land at Harvest Market.

Bridal Report - the Bridal posse were in the air and reporting something about "body lice"? Anyway, they got to Upper Launch, I think Alex R top-landed and it was okay in the air just a bit choppy above the Saddle. Fairly strong winds in the LZ convinced Kelly not to fly.

Golden Report - Saturday looked like it might be a carbon copy of Friday, at least from the forecast winds: 260 at 13 kts, up to 12000', with a lapse rate of 9°C per 3000'. Those upper winds were forecast to increase to 30 kts after midnight, at least in Cranbrook. But when we got to launch, the sky was different. The early-morning cus had disappeared, and the valley was full of smoke: you could not see more than 20-30 km up the valley. Also, there was little wind on launch, unlike Friday. This lack of surface wind prompted some pilots to think that it would be different.

When the first PG pilots launched around 12:30 and stayed up, climbing slowly, at least 5-6 immediately punched off. I set up my hang glider, and was first to launch, about 13:30. Lift was indeed light, as it took about 5 minutes to gain enough height just to fly over to the next knoll. But there it suddenly picked up, and I was over the top in no time. Like many pilots, I then found lift to be sparse, as I traversed the whole mountain fruitlessly, finally returning low to McKnight's chimney and getting up from 1700m.

Over at Pagliaro, there was obviously a strong west wind. And on the corner peak, first on the range, I found 8 m/s during 5 turns there. The drift was definitely from the west, as my groundspeed said 80 km/h flying down the range. Mark Johnston in his paraglider recognized the danger and flew out to land at Castledale. I put down at Harrogate with Keith MacCulloch after tiring of pulling in on the Sport; I was soon joined by Steve Gravelle, James Lintott and Ken Nicholson.

Chris Muller went by on the much faster Talon, and flew to Invermere and back to Harrogate. With that 160 km flight, he moved back into first position with just two flights, the other contenders all have three. Doug Keller flew to Spur Valley, landing there when he realised he was unlikely to fly further than Fairmont, which he needed to do to move ahead.

Back up at Golden, PG pilots were finding it pretty rough in the wind and strong thermals, always a deadly combination. Ron Ford took an assym in his Bagheera which turned into a 10-turn spiral. He pulled so many Gs on that spiral that he sprained a muscle in his side when he pulled out of it. But the worst was yet to come. Another PG pilot may have tried to top-land at the upper launch (not a very good idea in strong winds at mid-day); in any event, he is said to have stalled and fallen onto the ground there. Putting down his hands instinctively to protect himself, he broke a wrist, the opposite arm, broke some ribs and punctured a lung. He managed to get out of his harness and was lying comfortably in the sun when the helicopter pilot landed and came over to ask "the sunbather" if he'd seen a paraglider pilot!

Meanwhile, Ian Mitchell was back after spending a night on Mt. Berland at 6000' after scratching too close the day before, taking a big assym and hitting the trees. Ian provides an example of preparedness, as he had with him a pocket chainsaw (which he used on 4 trees including a 12" one to get his glider out), DEET, bug netting, Percodan painkillers, lots of calories, warm clothes, tuque, signal mirror, spare batteries for his radio, cell phone. As a result, he was warm, dry and comfortable (though he didn't sleep much on his small, sloping ledge) and was able to hike down the next day. The one thing he didn't have, but could have used, was a powerful whistle to signal where he was to the others that were looking for him.

With all pilots safely on the ground, it was time for festivities. John McIsaac and Cathy-Ann David, new owners of the Nicholson landing field, put on a party to officially inaugurate the field. They set up a large tent, and cooked up burgers and corn for all comers, with a keg of beer for refreshments. Ten PG pilots flew down at sunset, then another 10 half an hour later in the falling dark. Chris Muller flew out his in his PG and gave us an aerobatic display with helicopters, SATs and loops.

Today, Sunday, the sky is overcast for the first time in 10 days, and the wind forecast is NE. The comp may indeed be over. But there's still another party, the annual salmon fest at Deb and Mark Fraser's, this evening. Yahoo!


7/30
Woodside
Sunny with cloudy periods. High 27
0%
280° at 7 knots
-2.4°
/1000'
(unstable)
2000m
6600 ft.
Woodside Report - windy at Woodside later when we flew. Andy reported good flying all day with Barry.

Golden Report - The weather turns ...

Sunny skies but lots of cu early in the morning, of the spreading-out kind. Winds aloft were forecast to be west at 15 kts. This direction is always a warning, since if the winds increase there's no place to turn and run. You are in serious danger of blowing over the back.

Arriving on launch at noon, I saw that pilots were already having to reverse- inflate their paragliders. The cycles were coming through with vigour. A couple of pilots that normally have good launching skills were having trouble. I prepared my paraglider quickly and got on launch... 3 tries later, I finally got off by doing a forward launch in a lull.

Joining Keith MacCullough, Garth Henderson and Will Gadd in a thermal, we drifted up toward the peak. But once there, I could see that the flag on the upper launch was already standing out. Topping up to 2900m on Willi's bump, I headed over to Pagliaro, only to find I had little forward speed. Continuing on to the range, I turned into wind and had a groundspeed of only 5km/h. For me, it was clearly time to get out of here. But it took 15 minutes to fly out to the highway; at the lower level, the wind was NW at 25-30, so I hovered down to land.

After packing up, I began to second-guess my decision, since I could paragliders scooting along the range near cloudbase. The hang gliders seemed to be doing even better. But after returning to Nicholson and seeing a 40-50 km/h gust roll through, I realised I'd made a safe decision. Christine Nidd came in on a Pulse hang glider and said she'd been trying to get down for an hour; she collapsed on the ground in fatigue.

Most pilots landed between Parson and Spillimacheen, with one or two near Brisco.

Now in the evening, we have a report of one PG pilot down under reserve (Randy Parkin apparently okay, no more details at this point), with Ian Mitchell under reserve landing at 6000' on the mountain and hiking out, and Mark Dowsett, HG pilot that got turned downwind on final and severely damaged his glider.

This is a good reminder that whether we fly hang gliders or paragliders, we're really all just leaves in the wind. The mountains deserve our respect. We need to keep safe for the wind-up parties tomorrow night at the LZ, at John McIsaac's new (old) home, and Sunday night at Mark and Deb Fraser's! - cheers, midtoad


7/29
Bridal (high winds expected at Woodside)
Sunny. High 30
0%
290° at 19 knots
-2.5°
/1000'
(unstable)
2000m
6600 ft.
Woodside Report - I headed over to get gas at Harvest Market as Andy and Jim M showed up, so I drove my car over to the ranch and rode over with Jim M and met Andy and Barry at the bottom. We drove on up and it was a bit strong for my liking, The guys all launched in fairly strong thermals, and went up. They all landed over at Harvest. I picked them up in Barry's truck, except Andy had his vehicle already at Harvest and had left already to go home - Bev


7/28
Bridal (high winds expected at Woodside)
Sunny. High 31
0%
280° at 17 knots
-2.5°
/1000'
(unstable)
2000m
6600 ft.
Woodside Report - I arrived at the ranch at about 3:30 to find nice conditions but no one was there. I headed over to Bridal to find the same thing. I hung out for about twenty minutes and Andy showed up. He suggested Woodside and off we went back to woodside. Conditions were perfect. we ridge soared for about a half an hour and Andy suggested we head to the market where I had left my truck before we went up. We arrived at cemetary hill at about 400 meters. and soared it for a while. I went to far down wind and got into some leaside rotor. Very rowdy, so I landed and Andy landed about 10 minutes later. We went back up to light conditions for a sledder into Eagle Ranch - Jim M.

Golden Report - I forgot to post yesterday, so here's news on the last few days.

After a great start Saturday, we had a few frustrating days due to too-high winds on launch. Both Sunday and Monday were sunny days, and pleasant in the valley, but up on launch most pilots chose not to launch. sunday the wind was south, and Monday north. Serge Lamarche did 48 km one day, and one or two others flew, but there were no notable flights.

Then came Tuesday. Winds aloft were N, that is, 30° over the back. I launched early in the paraglider, after Nicole McLearn in hers, Doug Keller and Chris Muller in their hang glider. We found strong lift, and cloudbase about 3700m. There was some serious spankitude any time we got down near the peaks, so after one low speed I stayed high. As I moved further south, my groundspeed increased to 70 km/h, telling me that the winds aloft were 30 km/h. After just three hours, I had Invermere airport on final glide. Nicole landed at Brisco, concerned about the increasing winds, and Doug landed just north of Fairmont Hot Springs, but Chris was still in the air. He made great time on his Talon, and in only three hours was already at Wasa. He continued on south and eventually landed about 5 km south of Trego, Montana, beating Randy Haney's 18- year old site record! His total distance is about 328 km.

Another flight of note that day: Mark Dowsett flew a 100 km out-return in his Lightspeed, in just over 2 hours. He was trying for a Canadian record, but missed closing the finish line by just 19m! After these few pilots got off launch, winds picked up to where it was unlaunchable for several hours.

Wednesday, winds were lighter, and more NW, i.e. down the range. Chris switched to a paraglider, and I to a hang glider, and we both declared Invermere return. The air was even rowdier than yesterday, it seemed, with peak lift of 10 m/s at one point, and cloudbase that climbed to 4000m later in the day. Arriving at Invermere after 3 hours, it was hard to turn around and try to fly back into that 25 km/h headwind. After two more hours of bashing into the wind, I finally put down at Brisco, just behind Chris.

Obviously it was a day to fly straight distance. We don't have all the details yet, but Will Gadd, Ian Mitchell and several others flew paragliders down to somewhere near Wasa. Mark Johnston and Norm landed at Canal Flats (146 kms). Even several hang gliders went open distance, landing near Fairmont. Steve Best went to Edgewater and tried to fly back, but didn't get far in that headwind. Nicole McLearn landed at Spur Valley, for a new feminine Canadian PG record of 70 km - Stewart Midwinter


7/27
Woodside
Sunny. High 31
0%
270° at 8 knots
-2.5°
/1000'
(unstable)
2000m
6600 ft.
Golden Report - Norm called Bev to say he hasn't flown yet . . . too windy after 3 days being there!


7/26
Bridal
Sunny with cloudy periods. Fog patches early this morning. High 28
0%
270° at 12 knots
-2.5°
/1000'
(unstable)
2000m
6600 ft.
Woodside Report - a number of pilots flew Woodside all day. Barry, Andy, Martina, Bev and eventually Derek showed up to bag a 1:05 flight. I flew a tandem later in the day after the winds subsided and the thermals were still working at 6:30 pm. When I drove by Bridal no one was flying.

Golden Report - Yesterday, there were strong SW winds on launch, as expected with the weak frontal passage. No paragliders flew, and only one hang glider. He got turned strongly on launch, headed for the trees, had a good scare but managed to turn away. He got drilled all the way to the LZ where he had a good landing.

In mid-afternoon, the wind turned NW. The sun shone all day and the temperature went into the upper 30s. By evening, the Saskatchewan boys decided to check out conditions up on launch, and took off soon after. Mike Riebling reports getting a wonderwind up over Mt. 7, then turning and gliding down range with a groundspeed of 70 km/h. At 10pm, he came down from 8000 ft. to landed near Parson, 27 km out. Serge Lamarche may have gone further.

Today Monday there's been a thick smoky haze overhead all morning due to a fire somewhere. No one seems keen to rush up the mountain.

This evening we'll use an LCD projector and a laptop running SeeYou to replay Will Gadd's tracklog from Saturday in 3D. Maybe we can learn something about how to go far - midtoad

Washington State Report - Delvin called to say the US Forest Service has cloased the roads into their mountain sites (Big Johnson, Black Mtn, etc). Blanchard is still open as it is under DNR jurisdiction. Expect to see many WA pilots up here soon.


7/25
Woodside or Bridal
Sunny. High 30
0%
290° at 13 knots
-3.0°
/1000'
(unstable)
2800m
9200 ft.
Woodside Report - we had a number of good flights off Woodside early, and then it started to get very strong at launch. I managed to do 3 tandems during the day in some lulls, and it was fairly smooth in the air. No problem climbing out to 900 meters but above that you were getting drifted back too far for comfort. Soared Cemetary Hill, three times climbing above it. One interesting LZ found on the way to Agassiz Rec Center, in an orchard bordering a corn field. From 150 meters to landing in about 30 seconds in one huge sink cycle, but the passenger thought it was quite neat as he didn't want a conventional flight!

Golden Report - A stationary front will start to move SE-ward at 10 kts today, and is expected to pass through here later this afternoon or evening, accompanied by thunderstorms. Right now (13:00) the sky is mostly blue, but there are lots of small, shredded cus drifting across the sky around or above the forecast speed of SW 18-20 kts. There's a moderate S wind in the valley.

Most paraglider pilots are staying down today, but lots of hang glider pilots went up the hill. We'll see later whether it was worth it.

Update to yesterday - two paraglider pilots landed in trees (one on the mountain, one in the valley), and another deployed his parachute after discovering that he'd hooked up one of his carabiners to the wrong place, and the thing was slowly sliding up to his shoulders. When he deployed his chute it wrapped across his neck and he got a bit of a burn until he was able to duck his head and get it out of the way. Two hours later (after a tree rescue) he was back on launch and had a less eventful second flight.

On the PG side, it's Will Gadd and Keith MacCullough in top spots. ON the HG side, Doug Keller is in the lead with an out-return to near Brisco. We'll be trying to get some of the tracklogs posted on OLC later tonight or tomorrow - midtoad


7/24
Woodside or Bridal
Sunny. High 37
0%
240° at 9 knots
-3.0°
/1000'
(unstable)
2800m
9200 ft.
Woodside Report - good flying conditions from 10:00 am on. Kirril took a new paramotor glider for a test flight and got to 8000 feet and 2 hours of cruising before having to land. Many good student flights earlier, then we had to do tandems because it was too thermic. I took Ben for a tandem after he had 2 solo flights and then he went for a "Magic Carpet Ride" later as it glassed off. Ben and many pthers launched into light cycles and started sinking towards the Bailout Swamp before being lifted magically to 1500 meters all over the valley. 15 minutes later pilots were sinking out and couldn't catch the lift. Ben finally came down to earth after 1:15 minutes of magic lift with a perfect approach and landing. Everyone had huge smiles (well most everyone).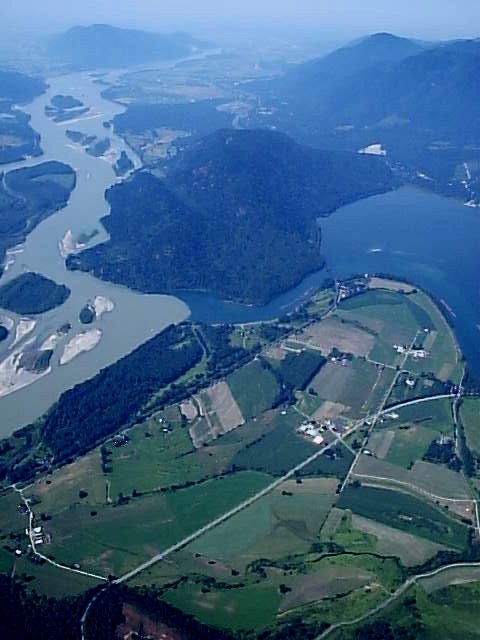 Kirril shot this from 8,000 feet over Mt. Woodside on his WalkerJet Motor

7/23
Woodside, due to leeside conditions
Sunny. High 36
0%
light and variable, east at 6000'
-2.9°
/1000'
(unstable)
2400m
7800 ft.
Woodside Report - Lou, Alex and Neil wrote their Novice Exams and passed with great marks, welcome these new Novice Pilots to the flying scene!

After writing their exams we went up the mountain and flew, some bubbles and crappy lift but when Lee launched he hit something that took him immediately above launch and heading for the stratosphere! I was driving down and didn't see his track but he said he kept climbing even without turning and topped out at about 2500 meters! He was a mere white speck above us for 4 hours, going back towards Agassiz, then over towards Chilliwack, and then he dropped down to join all of us on our last soaring flight which lasted about 1.5 hours for the students. The day started out choppy but smoothed out while I was test flying a new wing, soaring with Neil and Alex - Jim


7/22
Bridal due to possible valley winds at Woodside
Sunny. High 32
0%
290° at 10 knots
-2.9°
/1000'
(unstable)
2200 m
7200 ft.
Bridal Report - no reports but it was Norm's Birthday so I am sure the weather-gods handed him a good day. The cloudstreets looked beautiful.


7/21
Bridal
Sunny. High 28
0%
340° at 5 knots
-2.9°
/1000'
(unstable)
2200 m
7200 ft.
Bridal Report - reports are flowing in of a very good day at Bridal, Barry was dancing a "jig" after landing 3+ hours after launching. Norm reported it was a bit on the windy side but he had a great time (2+ Hrs.). About 20 pilots flew and stayed aloft for 2-3 hours each. Nice CU were forming as I drove to YVR for a one day trip to Edmonton, with a fairly strong sea breeze at the airport.


7/20
Stay Home
A few showers. High 23
100%
light and variable
-2.9°
/1000'
(unstable)
500 m
1650 ft.
Woodside Report - I worked around the Ranch all day, and Bev and Norm showed up around 4:00 pm an we headed up the mountain. Some towering CU observed on the horizon but it was sunny at Woodside. Norm launched first and caught a few bumps but had to head out fairly soon. I launched flying Colleen's Simba II S, getting it ready for Golden for me to fly and got pretty low over the clearcuts before I caught a small nasty thermal which took me almost to launch. From there I headed toward the north cliffs and was soon in a +5.5 m/s thermal that took me 200 meters over launch, but it was also nasty. Big lift with sharp edges and big sink on the outside. I fought with it for a while and decided I had had enough and landed at the Ranch. We went back for another go later and Norm found a thermal ridge soaring the north ridge, while I experimented with the south knoll, bad call as I sunk like a stone.

Golden Report - Great start to the Willi Week! The day starts with clear skies and light winds. Forecast is for south at 7-8 knots all the way up to 12,000', with an excellent lapse rate: 7°C difference between 6000' and 9000', and 6°C/3000' all the way up from there. First pilots were off at 13:30, but what were we waiting for? It was already working, as there was a cloud over Mt. Seven from noon on. I launched at 14:05 and went straight to cloud: 3700m, right over Mt. Seven. The supposed headwind disappeared, and it was straightforward sailing along the range. Progress was slow, though, with no tailwind. Rushing as much as I could, I was only able to average 20 km/h down to Harrogate, where I topped up to 3500m and headed for home. The light winds, and the scoring, encouraged pilots to make out-returns, and indeed most of the hang gliders and many of the paragliders did exactly that. Longest O/R of the day was by Will Gadd (Gin Boomerang II), who flew Edgewater return. That flight of 160 km netted him Randy Parkin's bonus prize of $125. Keith MacCullough *almost* completed the same task, coming up just 3km short. Ron Ford and Max Fanderl launched at Swansea and flew north to take advantage of the forecast south, but they said it died off by the time they were at Spillimacheen. They still made it to Golden. I found the air relative smooth, with some strong, large cores to 5-6 m/s (1000- 1200 ft/min). There was only brief moment of spankitude, when I took a frontal rounding the last ridge onto Mt. Seven in the evening. But some didn't like the air down low, so I'm told. Also, some pilots didn't find it easy to get up from down low, and a number landed at Nicholson. Low save of the day award has to go to Mark Fraser (UP Summit), who got up from 1400m (valley floor is at 750m) at Spillimacheen, then flew back to Golden for a 100 km O/R. Today, Sunday, day 2, we again have light winds and clear skies with a few bits of alto-cu. Should be another "golden day" - Stewart Midwinter

no mention of Norm who is competing there?

7/19
Woodside early before the rain
Cloudy. 60 percent chance of showers with the risk of a thundershower. Fog patches early this morning. High 24
60%
240° at 15 knots
-2.5°
/1000'
(unstable)
2200 m
6900 ft.
Woodside Report - Derek reported kiting was a bit wild at Eagle Ranch and no one dared to fly as the gusts caused by the towering CU was too strong. It was windy right until dark.


7/18
Bridal Falls for the Air Races (BFAR)
Sunny. Becoming cloudy this morning with 70 percent chance of showers this afternoon. Risk of a thundershower. High 27
0%
270° at 7 knots
-2.5°
/1000'
(unstable)
2400 m
7800 ft.
BFAR Report Day 2 - the day started out with an astounding display "how not to control a cravatte" by an un-named pilot who survived falling through the trees in the golf course. Then on to Upper Launch with a load of 9 pilots in the Suburban.

Colleen did one tandem before heading up-country to Williams Lake, as I followed her with Vickie Topping for her first tandem, thermalling with husband Chris for a while. Later I was booked another BFAR tandem which we decided to do off Lower Launch for quicker turnaround, and it was a great time to be in the air. We took off and soared the bowl for 10 minutes before we found a nice thermal which Alex R also entered with his tandem passenger and we started climbing nicely thru 1000 meters. I left the thermal and headed towards the Saddle and we had lift all the way without turning and we were soon above Archibald out-climbing Derek on his Vulcan. Then on to Upper Launch with Alan and Darryl who climbed above Upper. We did one pass over Upper Launch to show the passenger where we would have taken off if we had hiked. Then on to Gloria for a quick look before heading out to let the passenger fly.

We came out over the golf course at 1000 meters and I tried some new tricks but wasn't aggressive enough, it is better to leave the acro for solo flying over a lake!

I offered to do one last tandem but conditions weren't favourable for a full loaded tandem glider, so we ended up driving down. The passenger accepted to do his tandem at Woodside next week, if we would have pulled off the last tandem, the total for BFAR tandems would have been 37 - Jim


7/17
Bridal Falls for the Air Races (BFAR)
Sunny. High 34
0%
light and variable @ 3000', 190° at 10 knots @ 6000'
-2.7°
/1000'
(unstable)
2400 m
7800 ft.
BFAR Report - lots of action from Upper Launch, with 20+ tandem flights, many student flights and HG and PG competitors in the Match Races. The hike & shuttle service worked well and even I hiked a trip with a tandem passenger - Jim


7/16
Woodside (Jim will be at Eagle Ranch all day)
A mix of sun and cloud. High 26
0%
180° at 6 knots
-2.2°
/1000'
(stable)
2400 m
7800 ft.
Woodside Report - we flew later around 4:00 pm, as earlier flights sunk out fast into Riverside or Eagle Ranch. I launched Alex and Natalia and they stayed aloft for 40 minutes getting up to 1000 meters in smooth lift out front, when they were headed out to land Thomm and I launched and played around in punchy lift (+6.5 ,/s with -5.0 m/s sink). I was on the Keara and it was a handful keeping it going the right direction, as the thermals were knocking us around. I scratched low early on the south knoll at 600 meters, before finding a steady climb off the highest clearcut right to 1200 meters. I waited for Thomm but he was not getting back up to that height. Norm had just launched and was down low too. I made my decision to fly towards Agassiz Mtn. from 1180 meters and got lift various places along the ridge arriving at Agassiz Mtn. at 850 meters. Steady +5.0 m/s climb there got me back to 1200 meters before transitioning to Bear Mtn. By now it was 6:00 pm and the front of Bear was shaded, but I hit the toe just above the powerlines and soared up a few meters before deciding powerline soaring was not too smart and headed east. No lift east so I flew out to Seabird Island to land. Alex and Thomm picked me up, as Thomm had landed at Harvest Market after getting flushed on the way to Agassiz Mtn.


7/15
Woodside (Jim will be at Eagle Ranch all day) or Bridal earlier before the day overdevelops
A mix of sun and cloud. 40 percent chance of showers this afternoon with the risk of a thundershower. High 26
40%
160° at 7 knots
-2.2°
/1000'
(stable)
2400 m
7800 ft.
Woodside Report - Jeffrey is back in town from the Honduras 'til Sunday and it was his birthday so the family let him fly! He had several flights and later when it was stronger I took his daughter Lea tandem and we hung out on the south knoll waiting for dad to launch, apparently he had a wild launch with assymetrics included but his Tetra got him out to the knoll just as we headed east. We were at 600 meters over the Fraser River when we hit an island thermal that was up to +2 m/s and we stayed in it until we got to 800 meters as Jeffrey flew under us. We drifted back to Cemetary Hill and soared that for 15 minutes but decided it was prudent to land at the Harvest Market field so they could find us, but I think the high school was an easy glide in those conditions. Later I took Paul, the Harvest Market owner, tandem and we landed in his front yard with the whole family watching.


7/14
Woodside or Bridal
Sunny with cloudy periods. 30 percent chance of showers this afternoon with the risk of a thundershower. Fog patches early this morning. High 28
30%
light and variable
-2.7°
/1000'
(unstable)
2400 m
7800 ft.
Woodside Report - it was flyable but very stable at Woodside, and I didn't hear anyone on the radio at Bridal.


7/13
Woodside or Bridal
A mix of sun and cloud. 40 percent chance of showers with the risk of a thundershower. High 29
40%
light and variable
-2.8°
/1000'
(unstable)
2400 m
7800 ft.
Bridal Report - I called Alan on the radio and he was hiking up the last spur road to Launch, after Rob dropped him off as he was going further to hack brush along the road for BFAR. When I arrived at the LZ Alan was trying to soar but nothing was happening. He was on the ground in 10 minutes or so, as it appears that the thunderstorm that went through earlier used up all the energy, despite hours of hot sun afterwards.

Elk Report - Ralph flew Elk and was in the air when the storm developed and was surrounded by thunder and lightning and was spiralling down when he saw multiple direct strikes on Church Mountain, which resulted in a forest fire. He called it in on landing.
7/12
Woodside or Bridal
Sunny. High 28
0%
080° at 6 knots
-2.4°
/1000'
(unstable)
1400 m
4700 ft.
Woodside Report - Jim T, Martina, Derek, Ralph were all out flying Woodside. Several sledders were undertaken before I took off to town for a GMFT Meeting at 4:00 pm. Derek said it turned on after 4:00 pm, and he managed a 2 hour flight before heading to Campbell River.

Bridal Report - Alan reported 2.5 hours getting low at times, Rob got above Upper Launch as did Robin. Light east conditions made for difficult climbs in the normal places.

Ymir Report - Rob Rae called to report a great XC flight over the back to Baldy Mtn, in Ymir. Bad news was that when they returned back to town they couldn't find their driver so they went back up the mountain on motor bikes to find him and they found he had left the road and was killed instantly when the truck rolled over him. His name was Paddy Ackert, local Ymir resident, who did not fly. Rob wanted everyone to be careful driving down from launch, he always thought flying was the most dangerous activity not driving.

7/11
Woodside early
Cloudy with sunny periods. 40 percent chance of showers. High 23
40%
210° at 7 knots
-2.8°
/1000'
(unstable)
1100 m
2350 ft.
Woodside Report - the day started out grey and dismal but we had good cycles at 9:00 am. Lou, Natalia and Alex all flew three flights before it got too strong and they were too tired. We overheard voices at Bridal saying the launch cycles there were lame, so Woodside was the best call. Soon the crowds started to descend on Woodside.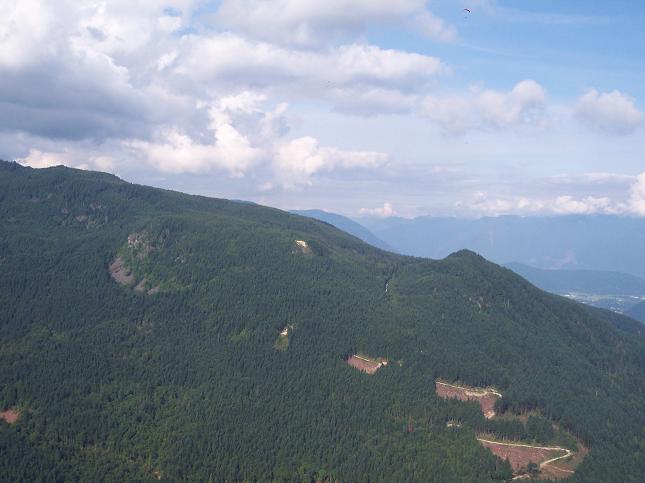 Woodside July 11, 2004


The new clearcuts at Woodside made for interesting air later in the day. Kevin flew out first and sunk like a stone all the way to Riverside, and hooked a low save over the last clearcut and took it to 'base. As soon as pilots saw that they started launching. When I launched, I sunk down to the second last clearcut before getting a beep, then a punchy +4.0 m/s got me out of there, climbing past Derek who claimed it was his thermal. Derek said later he had several +5.0 m/s climbs. Kevin and Daryl logged 3:00 at the end of it all, many others were in the air for 1.5-2 hours.

Bev was one of the last to launch and quickly got above Norm and I, not even turning? She flew for 20 minutes or less in the traffic and then peeled out over the south knoll fairly low. I willed her on mentally past Harvest Market and then concentrated on my own flying as I made a visit to the "white room" with a few others. Later Bev radioed as she was landing at Seabird Island in the sheep pasture! Longest XC for Bev and longest flight of the day from Woodside. Prior to this Jim M had flown to Harvest Market (his first XC flight!), as had Alex R on a tandem, so Jim drove to Seabird to collect Bev.

Bev's XC Report - Hi Jim, Today was epic for me. As you already know I went to Sea Bird, (Had to check out all the sheep hype) On my way over I kept saying I will land there then nope over there and this continued all the way over to Sea Bird. Sea Bird has been a big dream for me and I fulfilled it today. Jim Mansell was tracking me and went over to Harvest Market thinking I landed there, he said where is she? and looked up to see me thermaling my way up some more. He wasn't sure where to get me so I told him Sea Bird Restaurant, the number 7 to Hope. When he arrived he was very helpful. I wasn't sure if the electric fence was on, so I tested it with a blade of grass and then my hand, nope it wasn't on, then I found a little hole in the fence and climbed through it. Jim said "lets go home back to the ranch, or your home in Hope since you are half way there lol. I had such a huge grin me and Jim were chuckling on the way back, his first time for Harvest, and mine for Sea Bird. We were XC chimps today and it felt awesome!!! It was so cool seeing everything, such as Harrison Beach the rec centre and then the coveted high school landing Norm hasn't made yet. Hmm, where was he today? I mean he has a Zoom and I have a Presta, isn't that the wing he got rid of for the Zoom? heehee. Anyway the scenery was great, maybe next stop Ruby Creek? (One Day I suppose) And a BIG THANKS to Jim Mansell for coming and getting me - Bev

For Sale

Ozone Proton M - Blue with Red stripe, Advance Winner Harness, other goodies. Left in the Barn by a happy pilot with a big grin after 2+ hours of flying Woodside. Must be sold by Friday or I have to give it back to Thomm M :-)



7/10

Woodside early

Cloudy. A few showers beginning this morning. Risk of a thundershower. High 20

30%

light and variable

-2.8°
/1000'
(unstable)

1100 m
2350 ft.

Woodside Report - another interesting weather day, starting out with a magical cloud-filled sky.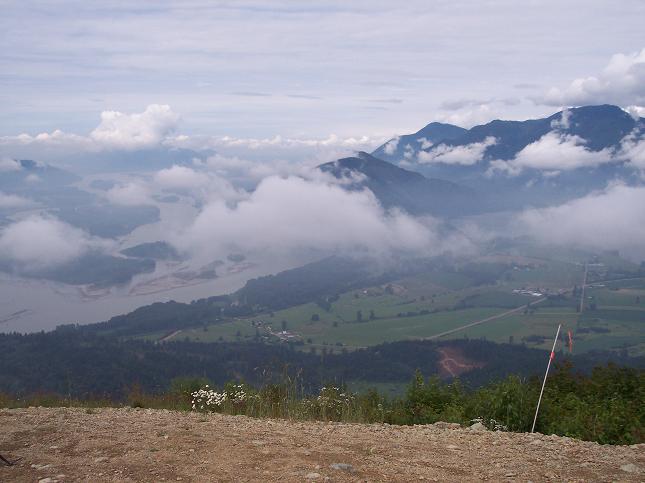 We flew two flights before it got windy. The last flight Colleen led everyone on an XC flight over to Harvest Market. When I flew over on Bev's wing and met them all at the Market, they were enjoying an East Indian Lunch (made by the owners of the Market). We went back up to launch around 6:30 pm, and waited an hour before packing up and heading down leaving Ralph from the Queen Charlottes on launch. I went to find him after dinner and he was hiking down in the rain.


Gerry and the Geriatrics!
7/9
Woodside early
Cloudy with morning sunny periods. Showers developing in the morning. Risk of a thunderstorm this afternoon. High 19
30%
light and variable
-2.4°
/1000'
(unstable)
1100 m
2350 ft.
Woodside Report - despite mixed forecasts we had a really good flying day. It started out with light cycles at launch but enough for student flights, and got reversible later in the morning. Then we had one flight that ended in rain, so in to the barn to dry wings out over lunch. Then the skies opened up and we headed back to launch where Neal and I launched and got cloud-suck immediately off launch. We flew for a long time on big-ears and Gerry L had just landed and reported 20+ winds on the ground (not sure if he meant miles or kms?) so we decided to fly to Agassiz. Neal landed at Harvest Market, and we soared Cemetary Hill on the tandem climbing back up to cloudbase from a hundred meters before heading in to land when we saw the Suburban drive in. My passenger had a 1 hour flight and loved it! Smooth landing conditions in 15 km winds.

Derek and I flew later in smooth ridge lift kissing cloudbase, and we were just encouraging Colleen to send off the students when we hit some weird air on the way out, it was bumpy and rotory but we were up high over the new clearcut near the HG LZ? It continued all the way to the ground, so it was good that the students didn't launch. Jim Mansell got a flight on his new Presta and liked it!
7/8
Woodside early
Cloudy with sunny periods. 60 percent chance of showers. Risk of a thundershower over eastern sections this afternoon. High 22
60%
160° at 5 knots
-2.9°
/1000'
(unstable)
1100 m
23500 ft.
Woodside Report - a really good flying and teaching day at Woodside. Greg and Adam flew around noon and were 200 meters above launch in smooth abundant thermals. The geriatric Japanese Group flew and also got high before the inflow winds made for a few outlandings (Bert has been compensated already). Later flights were not as lifty but still lots of buoyancy and no winds made for long flights into Eagle Ranch.

Paradrenaline T-Shirt Offer -Please relay this information to all your paragliding students!

At Paradrenaline we are now offering all entry/beginner level pilots 50% off one of our 2004 paragliding t-shirts (12.50$ CAN + S&H)! All students interested must contact us with their instructor's name and school he/she is affiliated with. Students will then be able to choose from our selection of paragliding t-shirts and grab the one that they would like the most. Now all you have to do is show off your love of paragliding! We should all lend a hand and help promote this great sport.

Together we fly further!

---
www.paradrenaline.com
sales@paradrenaline.com


7/7
Stay Home until Thursday, then head up-country to Ashcroft/Savona
A few showers. Windy. High 19
50%
290° at 19 knots
-2.7°
/1000'
(unstable)
1100 m
23500 ft.
Victoria Report - I made a fast trip to Victoria on HeliJet at 1:30 pm returning at 5:40 pm, and the wind was gusting to 40 knots from the west in the Victoria Harbour! Victoria Flyers need a west facing ridge because Dallas Road just doesn't work in those winds, even the windsurfers were staying home.


7/6
Stay Home until Thursday
A few showers ending near noon then cloudy. Windy. High 19
70%
210° at 14 knots
-2.1°
/1000'
(stable)
700 m
2200 ft.
Woodside Report - heavy rain in the AM, windy in the PM. Watch for a geriatric Japanese tour group when you are in the Valley this week, Seiji is here from Japan and Brian Stoner is guiding them through the sites.


7/5
Woodside or Bridal later if the wind picks up
A mix of sun and cloud. High 25
0%
190° at 6 knots
-2.8°
/1000'
(unstable)
1200 m
5000 ft.
Woodside Report - Jim T floated in to Eagle Ranch at around 9:30 am, and then several other pilots flew all day. Drew K (Derek's son) flew one flight before it got too strong and was above his Dad for the entire flight. I managed to bag a flight as Klaus drove for me, getting to 900+ meters but couldn't get higher with getting pasted onto the north cliffs, so I flew out after an hour as it was getting windy on Harrison Bay.

Bridal Report - Alan flew for 2+ hours with Rob S and it was uncomfortably windy there too. I arrived at 5:30 pm and by the time we got to launch to retrieve Rob's truck it was very light and I had a sled ride.

7/4
Woodside or Bridal later if the wind picks up
Cloudy with sunny periods. High 25
0%
290° at 10 knots
-2.8°
/1000'
(unstable)
1200 m
5000 ft.
Woodside Report - first flights at noon yielded Colleen a great flight, getting 2:00 of airtime before she headed out due to a sore shoulder. The rest of us followed her around for a while, before I broke free in a nice thermal that took me up to 1190 meter (cloudbase) and then on to Agassiz Mountain, and on to Bear. Due to the strong wind in the Harrison Gap, the thermals were not productive and I scratched on Bear for a while before landing on Harrison Beach. Norm made it to a field just before the Gap and Robin landed at the Crossroads Esso. On a later flight, Garry H made it just as high and the winds had kicked in so he took 45 minutes just to make it out to the Eagle Ranch LZ.

Bridal Report - after the valley winds got un-safe, we did some insulation in the Pilot's Lounge in the barn and waited for reports on the radio from Bridal. Alan had 3 hours but landed as the winds got stronger. About 5:40 pm, a bunch of Bridal regulars flew and got high fast! We arrived around 6:30 pm and were greeted with light launch conditions and light lift, but it was soarable getting about 100 meters above Launch.

7/3
Savona BC(we are on 146.415 mhz as the cell is out of range)
Sunny, 60% chance of thunderstorms in the late PM. High 28
60%
280° at 6 knots
-2.9°
/1000'
(unstable)
2200 m
7000 ft.
Savona Report - it over-developed early and was raining in all quadrants so we decided to drive back to Eagle Ranch. It was windy until dark at Woodside and no one flew Bridal either. Good day to mow the grass.


7/2
Pemberton for the next three days
Sunny. High 28
0%
280° at 9 knots
-2.7°
/1000'
(unstable)
2550 m
8300 ft.
Pembie Report Day 2 - we awoke to windy weather and clouds so Colleen and I decided to head to Spences Bridge to give her sister a birthday present.

We met Norm at the Petro Can and he suggested Cornwall without even knowing we were headed to that direction, and off we went. We arrived quite late to the mountain (after 3:00 pm) but up we went and when we arrived at launch at 3:45 pm it was cycling in strong and Norm launched off.

Colleen followed after we saw Norm maintaining in smooth lift. I waited a few minutes as Colleen reported "going up everywhere", but out of my sights. It started raining lightly and the cycles died down and I thought about just driving down but it looked so beautiful so I too launched. I got light lift in the bowl in front of launch but not enought to stay in to top land later, so I flew east along the ridge towards Cache Creek. I was getting more rain the further I flew but there was sun on a slope behind Cache Creek so I made my way towards it. As I arrived on the sunny slope I started getting pelted with hail and snow, and decided it might not be easy to find me in Tiger Country if I sunk out behind Cornwall, so I flew through the rain towards the Ashcroft Drag Strip flying around some small hills before landing wildly near the highway (Excuse #52).

Norm landed west of the Manor out of the rain, Colleen landed at the Manor in the rain and I was in the worst deluge at the Drag Strip. Not just wet but soaked through! But we all had great flights. Norm reported getting 500 meters above the Towers behind the Manor before heading in to land, smooth lift and not a bit rowdy. Hands off flying for most of the flight.
7/1
Pemberton for the next three days
Sunny. High 28
0%
280° at 9 knots
-2.7°
/1000'
(unstable)
2550 m
8300 ft.
Pembie Report - another Whistler Express day in Pembie. 8 hours of para-waiting, then a flight into iffy east winds got 11 pilots into goal. Later launches like mine were rewarded with a rough flight not penetrating on a loaded 2-3 wing. with an Edel Live going backwards until they settled into the trees on the wrong side of the river. Ian P and I landed in his farm west of Mackenzie and then went for dinner, smart pilots did not launch.