June 30
Deroche Fly-In (see wcsc forum for details)
sunny breaks in the PM, decent lapse rate!
0% POP
Light and Variable!
Deroche Report - Many PG and HGers flew Deroche, we monitored the action on the radio from Bridal. No PGers made the designated LZ. Didn't hear how many Hgers made it in. All the PGers flew Bridal in the afternoon.

Bridal Report - the drive up the back side from Chilliwack River Valley is open to get to Upper Launch. We left the LZ at 10:00 am and arrived at launch at 11:30. 4WD low range required in spots. Colleen had a first flight on Saturday and soared for a while before guiding some students in to the swamp. We did a later shuttle run from the decommissioned part of the road and there is a 10 minute hike over the closed section.

At one point around 6:00 pm, there were 15-20 gliders soaring the Lower Launch area. No mishaps, windy landing conditions but everyone landed safely.

Watch for Brent on his new yellow APCO ship, he got 2+ hours. Also watch for Ken on his new yellow Fiesta, he top-landed yesterday to retrieve his truck after watching the locals do it all afternoon. Not bad for his 50th flight!


June 29 b
Bridal
sunny breaks in the PM, decent lapse rate!
0% POP
Light and Variable!
Bridal Report - Colleen and I arrived at Upper Launch at 4:30 pm after I got us lost! We arrived to see Ian J top-land for the second time and then Colleen launched and flew for 2+ hours while I drove back around to the front.

I then drove Aaron (our driver) and Hans up for their first flights today (and Aaron's first high flight).

They both had good flights and Ian J top landed yet again for a claim to fame of 7 top-landings at Bridal in one day!

.Ian J drove the Banana down and I milked one last flight before dark fell. Nice day, lots of pilots and no incidents! - Jim


June 28
Blanchard
Rain, sunny breaks in the PM, dynamic lapse rate!
50% POP
240° at 5 knots
Bellingham NOAA reports looked good all day.

Bridal Report - Allan sad it looked skunky up to 5:00 pm. I received no pireps. Where was Bev? - Jim


June 27
Stay at Work
Rain, chance of thunderstorms
90% POP
150° at 15 knots
Rain all day and night.
June 26
Bridal/Grouse
Cloudy with sunny breaks, high 22-24°
20% POP
170° at 8 knots
Grouse Report - got a call from Rob P and Russ F who sat on launch for a while in NE winds and finally went home by 3:00 pm. I was in the LZ working with a District of North Vancouver manager with regards to topping some trees for the HG approach and decided not to try flying as the CU's were still drifting NE - Jim

Bridal Report - some pilots flew extended sled rides. Bev was on the job collecting HPAC forms and WCSC memberships. The Manager of the Golf Course was upset because a pilot (unguided student PGer) crashed on the 7th hole on Sunday and dug a divot into the green. If you see Rick Weigelman on the hill tell him to go pay for the damages and apologize for the incident (it was apparently his student). Oh yeah, and tell him to fly somewhere else!


June 25
Whidbey
Cloudy with sunny breaks, high 18°
20% POP
350° at 8 knots, westerlies to 20 knots in the PM
Bridal Report - I got a call from Ian J with an optimistic report from Allan D that Bridal was on today, and it is a lot closer than Whidbey so off we went at 3:00 pm.

We arrived at launch to see Allan climbing out and called the task to climb out to Upper Launch, top-land and then fly to Hope. First turnpoint was okay with Ian launching first and quickly climbing towards Upper. I launched within 10 minutes and followed Ian down-range. Allan was long gone to Gloria Peak. As I climbed in front of Upper Launch I saw Ian do a straight approach from the back and plopped right in on Upper Launch. I came in from the east side over launch and kept climbing way over launch, after about 6 passes I finally dropped in too. Turnpoint one finalized.

On to Hope after re-launching we both got hammered as an easterly kicked in at 1400 meters and kept tossing us around. I had enough of it after a few 50% collapses and seeing Ian take a full frontal and headed out over Lower Launch where I made a pass to top land and took a big whack just in front of launch (no collapse just a big push that rotated the wing 90°)

After that I headed out towards the valley to relax for a bit and started sinking out, oh well. I had a good flight at this point (1+ hrs) and watched Bev land in the swamp (on her feet) and she was so excited she started screaming in the radio about "no more sticky boots" and Norm and Allan thought she crashed and they were worried. So out to the LZ I went, at about 400 meters I started feeling some bumps and started a gentle turn, then a few more bumps and then I started a nice climb out taking me above launch again!

The east component in the wind was very apparent and pilots that got leeside got trashed, but everyone flew well and had long flights. Norm finally top-landed as the cycles started to subside, looks like he is used to his new Allegra. I blew a pass at top-landing and just could not get back up high enough to try again so I just kept flying because Ian was high over launch and knew he had a better shot at it (he nailed it perfectly and drove the Banana down arriving in the LZ the same time as I did).

My flight time was 3:00, Ian got 2:37, Allan 3:00+. Great rodeo action! - Jim


June 24
Bridal
Cloudy, high 19°
40% POP
200° at 8 knots
Bridal Report - we started flying at 12:00 noon and Colleen flew first and had a nice soaring flight getting above launch over the LZ. Robin flew a new Bandit and also had a great flight. Diane had her first solo flight on her new Fiesta! She logged about 20 minutes of airtime. Paul had his first flight at Bridal.

Several other pilots flew at 1:30 and had really nice flights with MC kicking everyone's butt again (and no vario)!

Then the rain came in and we were adjourned to the Club House. No one flew after that - Jim


June 23
Lil Nic
Cloudy with Sunny periods, high 19°
40% POP
230° at 7 knots
Bridal Report- I called Lil Nick because I thought cloudbase would be too low for Bridal, and it was until 4:30 pm. But then when pilots finally launched at Logger's Leap, they had magnificent flights. JF logged 4:20 for SkyPig honours. Bev logged 1:45 for her longest flight ever. Some students logged 25 minutes in super smooth conditions. Marie Claude (MC) complained that whenever she climbed out "everyone came over to my thermal, and I wanted them to stay out of my thermal! But I kicked their ass!!". - Jim

Blanchard Report - rumours of a South African PG pilot that crashed into a house at Blanchard LZ after just missing the powerlines. Any other news on this?? Four firetrucks attended the scene but we heard no injuries!


June 22
Bridal
Cloudy with Sunny periods, high 22°
0% POP
light and variable!
Bridal Report - Jeremy did his first top-landing at Logger's Leap and reports that SupAir has a great airbag that really works! Details to follow?
June 21
Grouse/Bridal
Cloudy with Sunny periods, high 22°
0% POP
light and variable!
Bridal Report - Deja Vu - see Monday's report - Ian P flew to Cheam and back, Norm and Jeremy duked it out in some rough thermals, Ian J and Jim climbed up to Upper Launch to top land and do "touch and goes" in the roughest air possible. 1:45. Ian J top-landed to drive down the Banana! - Jim (sorry Thomas!)

Grouse Report - No need to feel sorry for me, Jimbo! Grouse was not quite as good as Bridal, but Rob and I had respectable flights of over an hour each. Launch conditions were ideal, and the thermals were mild and fat. No excitement at LZ either, but the cleared area by the lake is a steady thermal generator - we both hung out at about 500 over for ten minutes or more - Thomas

Pilot's Report on new SupAir Radical Harness - I flew for 1:45:00 in the new Radical harness. I felt very secure and comfortable for the entire flight and it was bumpy!!. Easy to get into and out of for takeoff and landings - Jim


June 20
Grouse/Bridal
Cloudy with Sunny periods, high 22°
0% POP
light and variable!
Grouse Report - flyable but sled rides due to cloud cover - Jim

Bridal Report - rough thermals, some pilots getting 1000 meters over! One incident caused by a collapse with a pilot having to land above launch with his wingtip in a tree - unhurt luckily!

Golden Report - Just so anyone coming to Mount 7 knows, I did have a little event while flying down the range yesterday. I was quietly working my way back up top through a big gully, when.......woomph !!! I thought I had a structural failure of the glider, except I was not falling out of the air. All in an instant, thinking about throwing my reserve, I turned my head to see a turmoil of brown feathers leaving my right trailing edge, and cartwheeling away behind me. I had been hit by an eagle !!! I high tailed it out front, all the time just waiting for my glider to plummet or spin or something ghastly. I expected maybe torn upper surface, ripped luff lines, torn trailing edge, partly severed flying wire - none of these things are good on a HG. Or even his buddy to come and really get me! As it was, the glider flew normally, I could see no damage on the under surface or related airframe, and after cautiously trying some gentle lift, I carried on, just held off the rough stuff. I figure small golden eagle, female bald eagle (it is the males that are black & white) or large hawk.

Jerry Delyea also spoke of being pretty well attacked on his PG by a hawk the same afternoon. It was to the point of yelling at the creature, and after some manoevers it went away.

I also had a hawk nosing around me talons down earlier in the flight.

We always have an adventure when we go flying here - just never know where or when it's going to be - Peter BE


June 19
Bridal
Cloudy with Sunny periods, high 22°
0% POP
light and variable!
Bridal Report - Hi Jim, You were coming in on the radio so clear at Bridal I had to ask where you were. I hope it wasn't a paraglider the heli was looking for! Another great day on Bridal, did what you did yesterday, Andrea G. and I top landed on upper (had my lunch and a pee) flew for 3.5 hrs. top landed on lower and drove my quad down. Everyone looked like they had great flights. Andrea got over 2000m. asl. My best lift 5 m/s - Glen T

Bridal Gloat Report #2 - Those of us that went to Bridal had an awesome day. Rob S, Glen and myself, joined by Jacque and some others a little later all benched up in some rather entertaining therms, but were rewarded with nice lift up on the saddle (and most everywhere else). Some of the newbies had personal bests I'm pretty sure. Rob and I both wandered all over the place. I got up just above Cheam and could have gotten who knows how much higher in that hard edged freight train to Mars but chose to head back to the mellow enjoyable lift back at the ranch instead. Glen and I had a little top landing session at upper (way way better than Depends), and we all boated around till we were too tired to continue. There was a N/E layer at about 1700 m which was tough to break into, and light west in the valley. Huge fun had by all - Andrea

Grouse Report - launch lizards waited long enough to make Thomas, Russ, Heino and I have to hike down as launch was closed due to a heli rescue of a dumb hiker who got lost on the Grind! - Jim


June 18
Bridal
Cloudy with Sunny periods
0% POP
300° at 9 knots
Bridal Report - Ian J and I headed out to arrive at the Bridal LZ at 3:00 pm. We met Monica and Klaus and drove up to Logger's Leap. Another group of pilots drove to the end of the road and hiked to Upper Bridal launch.

Ian, Klaus and Monica launched before me and headed towards Upper Launch after a task was set to top-land at Upper and "heckle the hikers". As I launched my vario died due to dead batteries and I had to learn to fly all over again, but Monica led me to some great thermals and I top-landed at Upper Launch first in one pass. Ian landed shortly after me as Monica and Klaus thermalled west of Upper Launch.

Bev was on launch after hiking up with Andrea, Nicole, MC, Alex, British Tim .

Another task was set to fly to Hope with Alex R. flying off first, then the rest shortly thereafter. Klaus and I headed out first and we arrived at a peak beside Herrling Island and decided to turn back because it quit developing east of us, so we headed back to Logger's Leap, making it easily. We saw Alex, Andrea and Tim head east from near Mt. Cheam and they landed 2 kms east of the Laidlaw/Jones Lake exit on the hwy.

I decided to top-land at Logger's Leap to drive Ian's truck down and was followed in by Klaus (needing to drain some fluids), and Monica who top-landed for the first time on her 200th flight! We had 5 vehicles and enough drivers after Ian J also top-landed at Logger's.

What a day! Rough leeside thermals, some rodeo and SIV action. Klaus did some great maneuvers but I missed them.


June 16-17
Blanchard
Sunny
20% POP
280° at 12 knots
Pemberton Report - several more students flew at Pemberton until Stuart got a trashy ride downwind doing his first XC flight. Lars, JF and Ian J flew above the peaks for several hours before heading out. By 3:30 pm it OD'ed and we had to head down the mountain.
June 16
Blanchard
Sunny
20% POP
280° at 12 knots
Blanchard Report - Sweet flying at Blanchard today. After we waited out a dubious looking morning, it cleared up, turned to a westerly, and turned on for a while. Justin launched, top landing once at the south launch(!), then I launched and had a very sweet one hour flight mostly ridge soaring, but getting about 200 meters over at times. Tom McEachryn had come down with Justin, and eventually launched for his first flight in 5 months. It was a little strong for his liking, and after jumping in the elevator just in front of the tree line between the two launches (+5 at times), he headed out. Justin relaunched and we played around for awhile with a lone hang glider. It eventually got stronger and we both got a little rocked over the clear cut to the right of launch, so we headed out. There was lift all the way out, and we both came out very high. Justin played with big ears (only getting -1.8 m/s even then!), and I eventually spiraled down. Too much fun!! - Robin

Pemberton Report - several new students flew at Pemberton until Paul headed for cloudbase having problems getting his "ears" in. It eventually blew out as forecasted and we went to Jim Orava's to see him off for three weeks in Geneva.
June 15
Bridal
Sunny
20% POP
280° at 7 knots
At 6:00 pm cloudbase was high enough to launch but I was headed to Vancouver. No pilot reports yet. Woodside looked sweet - Jim
June 14
Whidbey/Lil Nick
cloudy in the morning, locally windy in the Fraser Valley
30% POP
280° at 13 knots
Grouse Report - Five of us launched after 1900 into mild southerly breezes. It was really cold at the peak, so there was lots of lift. I hung around the peak to watch some of the others launch, and then I played around above the bottom of the cut at about 1000' over. The wind was moderately strong aloft, so heading out from the peak was quite rowdy, but it settled down once out from under the cloud and lower down. I had about 45 minutes in all, and I found it pretty cold. Ian P. forgot his flightsuit, and froze on the way down - Thomas H.
June 13
Bridal
cloudy in the morning, sunny breaks pm, high 19°C
20% POP
250° at 7 knots
Bridal Report - Jeremy flew Bridal today, he soared for about 40 min, and a tandem pilot (Igor and his wife) showed up and also got a soaring flight, the sun came out and gave some soaring time, I ended up driving I didn't mind until I got to the lz and they were still in the air above launch! Then I growled I wished I could have flown, oh well another day - Bev

Grouse Report - a few hardy souls braved the SE winds and flew at Grouse. Cloudsuck and rowdy conditions between 4-5 pm, smoothed out for Russ to get 1:45 landing at 7:30 pm. The fence is still up and the baseball teams were out so we landed in the bottom field - Jim


June 12
Whidbey Island
rain in the morning, sunny breaks pm
80% POP
290° at 17 knots
Blanchard Report - Rob P., Alex R., Ian J. and I went to Blanchard arriving about 3:30 pm. We waited an hour or so for the sun to filter through the clouds and we were rewarded with decent soaring. Rob P. getting the highest getting 1000 feet over. Rough thermals, possibly leeside from the SE. Longest flight time of 0:56 - Jim

Bridal Report - Bev reported getting an extended sled ride while Allan drove her Blazer down.


June 11
Savona
sunny breaks pm
40% POP
light and variable
Savona Cluster Report - a few of the die-hards that stayed at Mara decided to meet at the Mara Diner at 8:30 am, which we discovered was closed Monday.

Start of a disorganized day. The Suburban is now in the hospital getting a transplanted t-case. We elected to drive to Savona to try to fly one last flight before heading to the Wet Coast. Ian now has all my gear in his camper (8 wings and 5 harnesses).

We met at the McDonald's in Salmon Arm and then followed each other to Savona. We arrived with no Andrea? We located her on the radio a few miles from us in Savona with an overheated engine after running over a black snake in Kamloops (the black snake turned out to be a fan belt driving the water pump).

We left Andrea's car and headed to the east ridge to soar as I dried out Ivan's wet glider. Once the glider was dry, Nicole hopped on it (Fiesta size M) and started soaring. Not to be out-done, Alex hopped on Bruce's Carbon (size L) and also started soaring. As Ian started kiting his own glider it started to get strong and Alex was on ears heading out to the LZ. A big cell started dumping precip on us and we bagged up the wings and headed down to the dead Subaru. Ian now has all Andrea's gear in his camper too.

After waiting 2 hours for the tow truck to arrive, Diane fell off a rock pile and cut her knee and landed in some cactus (everyone was having fun).

We eventally got going west to Cache Creek for lunch at A&W (losing Bruce who left early) and as we got into town we heard Robin on the radio saying he ran out of gas, but he managed to roll down hill into a gas station.

We finally arrived in Vancouver at 10:30 pm with no other problems to report.

Man am I tired!


June 10
Mara Lake
sunny breaks pm
40% POP
light and variable, west winds 10 knots at altitude!
SIV 2001 Day 3 Report - More snow and rain, followed with hail. Three pilots eventually flew and Greg from Calgary got a few good maneuvers in before heading downwind passing cars on the highway landing in 30+ km winds. Alex flew out and abandoned manueuvers and went XC down the valley. The Suburban "Big Banana" cages the transfer case and is abandoned on the road to launch :-(

Overall the weekend SIV Clinic achieved most goals depite some inclement weather - pilots were able to get acquainted with new maneuvers, learned from others flights and mistakes. About 55 maneuver flights were completed. We solved some glider problems (out of trim lines, etc.). We had one reserve toss (Ivan) which he was elated about. Chris Santacroce did a great job supervising the pilots through the maneuvers and ground briefings.

Chris is the Real Fly Hard Guy!

A remedial followup clinic has been offered to all participants that didn't get to finish all their maneuvers - later in July (after the rain stops).


June 9
Mara Lake
sunny breaks pm
40% POP
light and variable, west winds 10 knots at altitude!
SIV 2001 Day 2 Report - Snow and Rain followed with Derek and Ivan ruling the day! Derek did the SAT on his new wing after one practice turn! Ivan asked for a full stall, a spin and a few assymetrics - what he got was a full stall, a cravate and a reserve toss - before Chris had finished saying "throw your reserve", Ivan had it out and he floated slowly into the drink. He was pumped! Later that night he introduced us to "Mr. Shrively".

Later flights had pilots coming out over the water about 500 feet above launch in classic glass-off conditions.

Party at Emil's was great for a debriefing of the day. Zdenek brought a chocolate cake with "Paragliding Sucks" written on it.

We finally found Ian's keys after Brad and Bev hid them on him.


June 8
Mara Lake
sunny breaks pm
40% POP
light and variable, west winds 10 knots at altitude!
SIV 2001 Day 1 Report - Alex had the flight of the day, full stall and negative spin followed up with advice from Chris S. "Buddy! It looks like you are gonna have to throw your reserve!". But Alex worked it out and flew to dry ground. Carl got wet and landed in water and ran onto the beach before the wing came down.
June 7
Mara Lake
sunny breaks pm
40% POP
light and variable, west winds 10 knots at altitude!
Mara Report - after getting lost on the way up to Mara launch; Ian, Nicole, Alex and Robin flew. Nicole got about 500 meters over launch in some trashy air, others squeezed out 35 - 40 minute flights. Robin met up with a raging bull in the main LZ and survived!

Bridal Report - Kelly reports that Rob S and several others got a couple of hours at Bridal, while Mark Fraser flew to the school that Norm works at in Hope!

Bingen Wa. Report - It was epic on Thursday. Good flights all day. Mark Telep went XC for 5 hours and landed near Roosevelt Wa. for a 62 mile flight. He got up to 7k. He REALLY likes his Apco Simba! Glass-off was even great - Rick Higgins

Tiger Mountain Report - several PG and HG pilots made 25+ miles landing all over the place - Paul Klemond

Marshall/Torrey Pines - 20 hours in 5 days. Broke through the LA smog inversion and got 4,000 above launch at Marshall in conditions like Golden. Plus lots of mindless typewriter flying at Torrey. Damn those Americans have it good! Had to come home for fear of catching AIDS (Aviation Induced Divorce Syndrome) - Ian M


June 6
Whidbey/Blanchard
rain in the AM, sunny breaks pm
40% POP
light and variable, west winds 15-20 knots on the coast
Blanchard Report - arrived to deliver a glider to a US pilot and it was ugly, low cloud base.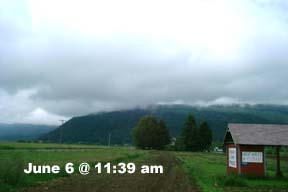 Within 20 minutes it opened up and west winds kicked in, but he had to leave to get back to work . . . and no one to retrieve me if I sunk out and couldn't top-land. Bummer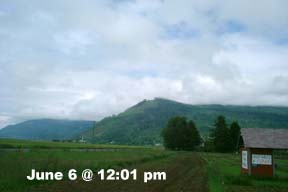 June 5
Stay at Work
rain possible
60% POP
170° at 5 knots
No flight reports were received - Jim
June 4
Bridal
Sunny in the PM
0% POP
280° at 11 knots
Bridal Report - skunked due to strong cross winds, no one seemed to eager to launch.

Woodside Report - It looked like a good Woodside Day, too bad we have no LZ!
June 3
Blanchard
Possibility of showers in the AM
30% POP
Light and Variable
Blanchard Report - we headed to Blanchard with 5 students and conditions were light south, so they started to get their first high flights logged. Then the Canadian Invasion started, with the possibility that Bridal was socked in about 25 Canadian Pilots appeared on launch, in the air or in the LZ.

Ian J got 2 flights for 50 and 40 minutes gaining 400 meters over launch, but Nicole still kicked his butt! SkyPig of the day honors to Rob Samplonious who scratched in the cloudy part of the day and outlasted everyone by at least 30 minutes.

In order to maintain the right to use the Blanchard LZ (the owner has just retired and is moving in permanently), you should leave your cars at the Colony Road and Chuckanut Drive intersection and either land at the LZ there or carpool to the other LZ to pick pilots up if they can't glide out - Jim

Bridal Report - Alan and I had a great flight at Bridal (kinda squirly launching) but other than the low cloud base 1100-1200 it was great! 3 hours 50 mins - Mark F.

Pemberton Report - Charles Mathieson said the flying in Pembie was great. 2 hour flights to 8,000 feet. XCs galore. He was pumped - Jim
June 2
Blanchard
Showers tapering to sunny skies
30% POP
250° at 7 knots
Blanchard Report - JF, Ben and Atousa went straight to Blanchard instead of kiting with us in Tsawwassen and got blown out and very wet (sorry for the bum call).

Tsawwassen Report - we kited and practiced from 9:00 am to 5:00 pm and everyone got really good at handling their wings. 5 new students are ready for the big hills tomorrow!

Whidbey Gloat Report - We parawaited only an hour and a half from our arrival at 4:30. we were messing around with hand towing at the Fort as conditions were expected to hit later but were fairly light. Alex setup with my "Chunky Monkey" size XL Booster and I hand towed him up to about 40 feet. He released and as he glided over to the lip he turned North and was maintaining. Next thing we knew he was passing the spike and going up! Shortly thereafter it turned on as Alex returned my wing gearing back up with his medium and about six pilots launched for some sweet flying until it peaked at 25 mph about 7:30. We landed packed up to head north into the rain squalls all the way home. Sunny and warm the whole time at Whidbey. Some pilots also flew 2 hours on the South Ebey's Landing launch earlier but were prepared for hassle from the rangers. The rangers never came - Ian J


June 1
Whidbey
Risk of an afternoon thundershower with small hail. Windy. Winds tapering in the afternoon in the Strait of Juan de Fuca.
70% POP
240° at 14 knots
Ebey's Landing (South Side) is still closed as of June 1/2001. Fly the Fort to be sure!

Please stop after flying and buy a beer or food from the Bridal Falls Golf Course. A few weeks ago some pilots bought a bucket of balls and had spent some time on the other end of the driving range. Please support our LZ land-owner at Bridal!


May 31
Bridal
Sunny all day
0% POP
190° at 8 knots
Bridal Report - sled rides for all, except Allan D and Rob S (Rob got 47 minutes and 2.0 m/s up). Very stable - Ian J.