Cross Country Flights by Paraglider are possible, 432 kms is the current open distance record set in Texas on a Gin Boomerang by Canadian Will Gadd!

Flights in the Fraser Valley are confined by the valley narrowing at Hope, causing high winds in the afternoon. Out and Return flights at Bridal are the safest XC flights, because you are typically landing near the wider part of the valley.

Cross Country Triangle Attempt - May 8, 2008 - Mount Woodside, Harrison Mills, BC

I decided hiking up Bridal with new students in the snow for their first high flights was probably not too smart, so we stayed at Woodside.

Norm launched first while Colleen, Martina, Kelly and I watched him "get his ass handed to him" high behind launch. Big spiky thermals with huge sink and wind made it look rough. I had to go test the air to so out came the Boom Sport and I got yanked into the air even in a calmer lull. Good climbs to 1300 meters and we were exploring the Mountain mostly to the north over the towers. The girls drove down and the students kept kiting at the Ranch.

After an hour or so at Woodside, I got bored and we weren't getting any higher than 1300 meters so I headed for Agassix Mountain and the CYR over the prison. I was at 1300 meters halfway there when I saw Norm climbing fast behind me so I slowed down and took some of that climb while I saw Al "the Hammer" coming in low, in the lee, and sinking like a stone with nothing but River if you don't make the Chehalis Reserve! He managed to get up in the lee a few times and finally just when I thought he was going to make it out to the Valley, I saw him come through the Saddle where Mark F is hauling timber and from my vantage point up high it was hard to tell how low he was until I saw his shadow and he was landing on the logging road. Unfortunately there is no place to relaunch there, but I told him to wait for a logging truck and he got a ride back to Woodside Launch.

Norm and I didn't spend too long on Agassiz Mountain as we were already topped up there and Norm headed to the Harrison Gap and Bear Mtn. I heard about the strong south wind from others who flew and got flushed at Ruby Creek and Bear, so I stayed out front and was headed to Green Hill behind Agassiz when I got my best climb out in the Valley. Norm was still struggling in the Gap and I topped out at 1500 meters. Interesting climbs with speed bar 50% engaged to stay upwind but it worked well. I heard Martin coming in on his ATOS VR over Agassiz Mountain at 1300 meters after going to Mount Saiant Benedict near Stave Lake and I saw him at about my height when I aimed for Bear. Again the climb there was better out in front. Norm had climbed out in the lee of Bear and was heading toward us. I topped out in front of a big CU and witnessed an ATOS going weightless! I thought Martin was intentionally diving under me to swoop up, but he got slammed by a thermal making him lose the bar and hit the keel.

I climbed to my highest altitude in front of Bear at 1700 meters and saw Martin heading to Ludwig (after he did some unintentional acro), so I followed him on 75% bar and arrived at the other side of the River at 800 meters, pretty low especially when it starts to shade over. Martin lost 300 meters on glide while I lost 1000 meters, and he still wasn't climbing above Ludwig, just a few bumps he said. I thought about my options and I could have made it back to Seabird Island Gas Bar for my height, so I played n the ridge for 15 minutes until I got a good climb out to 1000 meters to ridge soar upwind to Bridal. Norm unfortunately picked a bad line or didn't use enough bar, cause he hit Ludwig pretty low and soared down to the Highway landing on the median at Herrling Island exit.

It was pretty black along the ridge behind Cheam but I was getting steady beeps and 20 kph ground speed so I only had to stop to "top up" three or four times and I arrived over Bridal Launch at 1000 meters (learned that trick watching Rob S soar the ridge at 700-800 meters).

Look for the dot above the Ridge near the slide as I head towards Bridal - photo by Martina


From there to Elk, it was pretty much a straight shot under black bottomed CUs straight to the Annis Road exit where I hit 1500 meters before turning to Woodside. It looked good over Rosedale but no beeps and not going very fast crosswind and Kelly and Martina were going to bail back to Woodside. I decided the safer Fraser River crossing was directly downwind towards the Rosedale Bridge and I landed near Whelpton Road. After I got off the field, the farmer started spreading manure within 5 minutes. Good timing.

Martin made it back to Woodside to tag his last turnpoint and into the HG LZ where his car was waiting. Helps when you have a 17:1 glide and a downwind run, but I was packed up much faster! His flight is found at Martin's track log from Friday



Flight Track on a simple topo map, from Jim's Flight over to Bridal - photo by CompeGPS






Cross Country FLight to Hope Airport from Mount Woodside - July 18, 2006

After completing 14 tandem flights with a British Telecom Group - the tandem pilots wanted some fun!

When we got back to the Ranch, we decided a solo flight was in order. Brad had to go back to work, but everyone else headed up. Super nice cycles, Andy was already in Harrison, so we decided a run to Harrison for a beer would be the perfect end to the day. I launced in the middle of the pack flying a Boomerang Sport M for the first time. Nice launch (no tangles or brake malfunction) and I was soon climbing over the north ridge.

Everyone was climbing in different spots, with Kevin highest over the south knoll. I left at around 1100 meters toward Agassiz Mtn., finding a thermal on the way thanks to an eagle. All the way to Agassiz Mtn, was lifty and we were soon at 1300 meters at the peak. We all tried different thermals, and had mixed results. When I topped out at the same height many times, and no CU were forming, I headed towards Bear.

51 km downwind speed, and little sink until just before the Bear cliffs. As I hit Bear, I was able to S turn just over the cliffs, staying away from the trees (did I mention I have a bit of tree fear lately?). I was soon able to 360 in the lift and I was above Bear Mtn. peak. Waiting for the guys to catch something as they hit Bear, I wandered all over the mountain checking out the heli pad, and looking for top-landing spots. I was soon in a sink pattern that took me back to the cliffs to regain my lost height.

I was now climbing with Peter and we circled together over the peak of Bear. I headed to Hicks first and the SW face was working well. We were soon past Hicks (my flight deck was showing 51 kms groundspeeds, and 17-20 km windspeeds), we did a few turns at the bump near Ruby Creek LZ, and soaring the face of Squawlick, Peter was further south and I was on the north ridge that connects to Dog Mountain. I topped out there and headed directly east to Dog. We lost Kevin at this point so I thought he may have crossed over to the Bridal side.

Big mistake made here as I crossed the ridge to Dog Mtn, as it is a sharp spine and as I flew over it and startes sinking I was obviously going to fly into some rotor, so I flew fast as I could and it got a bit bumpy and then the entire wing fell back into a stall (I went hands up, and watched it reinflate in a few seconds). No cravattes, so I kept on course to Dog Mtn., and was climbing the first rocky bluffs in +5 m/s lift. As Peter caught up to me we circled together, gaining the height lost in the rotor.

I went on glide from the west side of Dog Mtn., across the face toward the gas lines that cross the Fraser River, and we were beeping the entire time without turning. Still recording 51 km downwind speed, so not too windy to continue on with lots of LZ options. We arrived at the ridge north of the Hope Airport, where I planned to top out again, and after a few turns decided it was time to head to the airport.



East Dog Ridge is on the left - photo by JPR

It was trashy out in the Valley, so I spiralled down over the Fraser, cooler air and very smooth. But I still had to fly out over the airport into the thermally wind to land. We had penetration and at times the wind sock was limp (thermally). I landed first and at 10 feet got a gust from the north that I countered and landed softly. Peter was not expecting the gust and got tipped over landing but was okay.



Peter on final at Hope Airport - photo by JPR

This was my first time in Hope Airport, usually too scared to risk the winds. My FlyTec 5030 Flight Deck gave me the info all along the way that it was safe to continue, in real time with wind speeds calculated at 15-20 kms. Peter hadn't been to Hope since 1995. After we landed, it got very strong, and we had to pack up in a hangar because the gear was gusting all around.



Welcome to Hope Regional Airpark - photo by JPR















Bridal Cross country by Mark Fraser - April 8, 2005 - apparently Mark F was confused with my Mt. Woodside site recommendation because he started at Bridal on his new Gin Zoom Race, and flew with Alan to Ludwig, then flew back to Mt Cheam climbing to 2000 meters and then jumped over to Agassiz and soared the small hills behind Agassiz before climbing out to Mt Agassiz (near the racetrack/prison) and then flew on to Mt. Woodside, ultimately landing at Eagle Ranch! Nice flight for a total distance of 50 kms in a dog-leg! Alan was last heard from over Elk for a "super out & return flight".



Simulated Track Log overlaid on a topo map




Mark looking east towards Hope after leaving Cheam Peak




East of Agassiz, note small ridge behind Agassiz directly below and in front




View of Harrison Lake Townsite and Beach, before heading west to Woodside





Cross Country Potential in the Fraser Valley
Just completed a great XC flight on the Bagheera M on March 6/2000.
I launched at 2:00 PM from Woodside in quite gusty conditions (25-30 km thermal gusts) and the Bagheera came up straight as usual and waited for me to push off.
I climbed out to the south to join 6 other pilots already in the air. There is a house thermal towards the south knoll that I often take to cloudbase, and it was there again. Due to the high winds at altitude it was only possible to stay in the core by really turning tightly. This is one area where the Bagheera shines, turning tight. I just slowed down to min sink speed and leaned over hard and the Bagheera started to go up at 4 m/s.


I was drifting quite far back to the point that I might be committed to doing a XC flight so I hit the speedbar and flew to the north where the other pilots were congregating near the microwave towers. I hit big sink all the way over and had to climb up through the gaggle. Again the tight, flat turns got me back up to cloudbase. The air was rough on the outsides of the thermals, and a number of the thermals seemed to have hard-to-penetrate walls. I just sped up to enter the thermals and once in just slowed down and weightshifted to turn.
Ian Porter was on his Profeel and we climbed up over launch and decided to try and cross south over the Fraser River to the valley, where the cloudstreet looked inticing. Unfortunately the upper level winds were about 220 degrees at 25 km, so we weren't making great progress (actually felt like we were sinking out before the river). I hit the same house thermal on the way over and decided to get some height before venturing any further south, hoping for less wind higher up. Again I drifted back as I cored the Bagheera up, this time not bailing out as I went back because the original intent was to fly south and I was just drifting east, thinking I could catch Ian on the flats. The thermal topped out at about 1250 meters (700 meters above launch) and I tried to head south with the same effect, no significant penetration so I headed over the back to Agassiz Mountain.
Ian Johnston had gone over the back and said it was quite windy in Harrison Hot Springs, so no one else ventured this way after he had.
There is a CYR Restricted area above Kent prison to the east of Woodside (stay above 1100 feet/350 meters) over Agassiz Mtn. until to Harrison Road (8 km). I overflew the prison on the ridge in sinky air (down 2.5 m/s) until I hit the rocky ridge behind the prison still above 1100 feet. I climbed out slowly at first getting closer to the rocks, but not too close, and an eagle joined me. We were competing for the top of the stack when I saw one of my last year's students, Tim (Farmer Tim) Boersma fly over me from Woodside. He mentioned before we flew that he wanted to fly to Agassiz Village and land in town when he launched. All three of us climbed up over the top of Agassiz Mountain and again the thermals were quite tilted requiring some tight turns into the wind to stay in the core.
The eagle flew off bored with our limited flying skills and I motioned Tim to head over the Bear Mountain to the east, because we topped out over Agassiz Mountain. Now or never.
I leaned back and hit 75% speedbar to cruise over the valley gap. I kept crabbing to the south to overcome the valley winds to Harrison Lake but there was no significant south wind at this altitude. I started getting lower over the swamp littered with high tension lines, and behind some little hills expecting some turbulence but only released the speed bar a few times when it got bumpy.
I kept remembering a Rob Whittal article that mentioned to not use brakes/speedbar at the same time because it changes the lift vectors dramatically on some canopies. Not wanting to do in-flight testing on this trip I just released the brakes and let my hands warm up for the first time in 40 minutes.
Just as I was about 500 meters from Bear Mtn. and at about 500 meters from the deck, I started to hit some lift. Not wanting to start turning in weak lift, I waited a few more seconds to see how the lift was following the ridgeline flying straight at the hill. Sure enough, 2+ m/s started and I started to turn tight again, modulating the brakes to fly fast upwind and slow on the downwind side staying in the core right up to the top of Bear Mtn, to about 1100 meters before heading east.
A beautiful view to the north over Harrison Lake, sadly the Search and Rescue Buffalo was still searching for the 77 yr old pilot missing since the Thursday before in his homebuilt. A reminder to fly safe and not take any chances on this flight. This fallen pilot was found 2 years later near Mission, in a wooded area not far from town. His plane was destroyed and no one saw him go in - Editor
I started heading east toward Mount Hicks, again on speedbar getting a 0.5 m/s sink rate and overflew the Sea Bird Island Cafe at over 1000 meters. I didn't recognize it at first because there were so many cars around it (usually it is quiet there) and I was quite far away with no map. I radioed back to Woodside to organize a retrieve and Tim had landed near Harrison Road and someone was heading to get him, I got Larry on the radio but he said I was breaking up but had heard I was on the ground east of Harrison. Oh well.
As I got to Mount Hicks I was about 650 meters and hit another great thermal on the ridge there, again flying at the face resisting turning until it was stronger, suspecting that the thermal wouldn't dump me out the back until I hit the top of Hicks at 850 meters. Lift was between 2-3 m/s up and again very tilted into the hills from the west. I checked the winds on flags and the Fraser River and it looked smooth, no whitecaps so why not continue??
If I turned into the wind to the west I was parked so there was no out-and-return this day. At some points in the climb above Hicks I just quit turning and faced into the west and was climbing straight up like an elevator without moving over the ground east or west. The lakes in Sasquatch Provincial Park looked very beautiful to the north and the sun was on the snowy peaks all around me. Quite hard to concentrate on flying with all the scenery.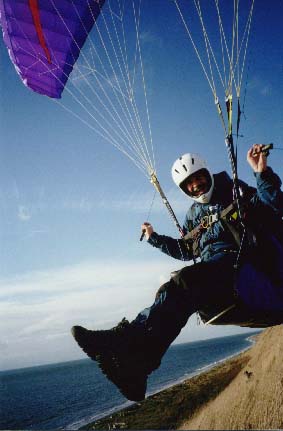 As I passed over Ruby Creek I was again at 1000 meters and didn't recognize it. The terrain east of Ruby gets quite unlandable with the exception of the Fraser River banks, as the river is low and you can walk over the train tracks to Hwy. 7. I was at 1000 meters so I was sure I could glide to a lumber yard or a ball field quite far in the distance. I also had the Hope Airport in sight now across the Fraser River and there was a big CU between me and the airport. I noticed I was keeping up with some of the truck traffic on Hwy 1 at this point in my flight (speed limit is 100 km on Hwy 1).
This was where I made a lapse in judgement. I went on final glide with 75% speedbar towards the CU and was expecting some beeps but got nothing as I got closer. As I surveyed the terrain, I noticed the valley gap is very narrow here and Hwy 1 is just across the River less than 1 km away from Hwy 7. There is a nice rocky ridge as the river bends on the south side that was fully in the sun and that was where the thermal was generating, I would have had to cross the Fraser and fly at the ridge there and I waited to long to figure it out and I was already downwind and in the backside of the thermal now.
I was in -2.0 to -3.0 m/s sink on final glide, and knew it risky to cross the Fraser into the Hope Airport now, plus I would have been leeside of the ridge so I headed for the ballfield with tons of height (I thought)! As I crossed the Highway on my downwind leg, I was able to make the turn to base and final (aircraft approach) and land with about 30 feet of altitude on final. It was rowdy as I got behind the trees bordering the park in rotor with 25 km winds on the ground but I just pulled the brakes to stabilize the Bagheera and keep it turned into the wind and dropped vertically into the ballfield.
Thanks Anatoly for making this great ship! The sign said Chawathil Park on the community center there.
The local kids were piling out of the school bus as I landed and they ran all around the glider putting on the helmet, picking up the harness and helped me fold up. Great fun for them!
Flight Log: Launched at 2:00 PM, Wasted a bunch of time fooling around Woodside Mountain sinking out twice, Climbed to 1000 meters over the south knoll and headed east, Four thermals (Agassiz Mtn, Bear Mountain, Hicks Mountain and unnamed ridge east of Ruby Creek), Lowest altitude 500 meters AGL, Distance is 29-30 kms depending on map used (GPS died after launch), One critical error near Hope Airport kept the flight from continuing but didn't want to be on the wrong side of the River not knowing the windspeed.

Landed at 3:10 PM. Fun Index - 120/100

Satellite Tim picked me up after finding Ian (near Agassiz) and Farmer Tim (near Harrison Rd.) and we headed back for another flight.

Larry, Monica, Klaus, Jacques and Alan were still in the air for a total of 4.25-4.5 hours airtime.

A great day for all after wasting two days in a row with tailwind Saturday and Sunday.

Cross Country Potential in the Pemberton Area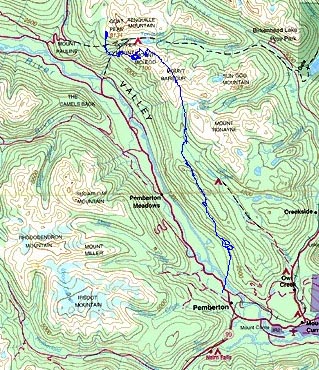 This cross country flight was conducted by Jim Reich in September 1997 at a sanctioned HPAC meet.
Equipment: APCO Xtra 28 Performance Paraglider, with SupAir Harness and reserve.
The map shown is a Garmin 45 GPS plot overlaid on a contour map of the Pemberton area.
The Launch was from Hurley Pass launch area at 4000 feet.
The flight lasted 2 hours and maximum altitude was 10,000 feet.
The total distance to the Pemberton High School Landing Zone (LZ) was 32 km.
I was getting ready to bail out part way through the flight, just over the bridge that takes you up to Hurley Pass. I had seen other PG pilots "scratching low" trying to stay up and then heading to the alternate LZ, so I started to head out also. I saw another pilot just come overhead (Danny Curylo), who started to turn and was going up. I committed to fly back to the mountain and snag the same thermal Danny was in, and by luck, the thermal was still building. It took about 6 turns to get up to 6500 feet (estimated climb rate of 6 meters/second or 1000 feet per minute). I then headed east along the ridge turning when the thermals built above 3 m/s and fast gliding throught the weaker stuff.
This was a bumpy flight but I was grateful to APCO for building a great performing glider that gave me a safe ride all the way to the LZ.