FlyBC Paramotors - Exclusive West Coast BlackHawk Dealer


Limited time Price $7995.00 USD with Blackhawk Core 30 Glider!
Normal price $7500 USD without a glider, saving $1500 as a package deal.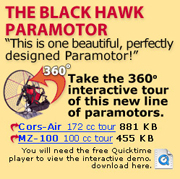 Engine: 125 Lite : 18hp, 135 to 145 lbs of static thrust, pull start only, easy starter in air or ground, comes with a automatic clutch, intake silencer, exhaust silencer, forced air fan cooling, higher pitched sound but still pleasant, complete paramotor ready to fly 42 lbs, vibration low to medium, dependability excellent, cosmetic's excellent, ease of repairs or adjustments excellent.
This engine Recommended for all pilots who weigh under 230lbs at Sea Level. Wings are extra cost, prices are for complete motor assembly.
Click images for larger view


FlyBC E-Mail