A few months ago Lars Taylor showed up at our Club Meeting in a wheelchair and asked me about the possibility of him learning to paraglide.
Lars was injured in a downhill mountain bike race 8 years ago and has no control/feeling in his body below his nipple line.
I mentioned that I had seen an article in BCHPA SkyWings about wheelchair paragliding in the UK and that a sturdy off-road chair with big cushy tires was required. He took me out to his truck and pulled out the exact style of chair I had seen in the article. This one Lars had built himself though. It is equipped with mountain bike tires and a castering front wheel and is lightweight aluminum. He uses it to wheel off-road. Lars also mono-ski races in the winter.
I discussed the possibility of crashing at launch at up to 30 km/hr and he shrugged it off saying he bails off the mono-ski regularily at up to 70 km/hr. (Lars has since recanted this part of the story but I know he wanted to fly no matter what)
We set out on Thursday to Woodside to start practice sessions in the LZ, trying to develop a technique to get him off tandem first using my trusty old Space tandem.
It turned out too gusty and we had to meet again Friday evening.
The setup involved a normal paraglider harness for Lars which fit into his chair. He was strapped into the harness, which was placed on the wheelchair. The chair was then strapped to the harness with 3 inch straps so it would be suspended under Lars off launch.
Friday we practiced inflations in the Woodside LZ and he was tipped over quite a few times because the wheels dug in when the glider wasn't straight and pulled him over. I couldn't hold him up and control the glider. His wife Arlana was along and we managed to stabilize the chair and did a few inflations keeping him upright. It was now time to move up to launch.
I was quite nervous of getting him close to the edge even though we were tied together with the spreader bars and I knew I could stop him. Lars was totally relaxed and only got nervous when the chair threatened to tip over.
Arlana's job was to stabilize the chair from the front and start Lars moving by pulling on the front wheel until we reached launch speed. After 6 tries in switchy winds, I called it quits. The wing never came up straight enough to get over our heads because we needed more speed. I needed more help from experienced pilots who know what I need for acceleration. I took Arlana for a tandem and she had a great flight in lift lift while Lars drove down. She really enjoyed the late evening flight, commenting on the surreal feeling in the air.
Saturday and we are headed to Pemberton to introduce some nearly signed off students to Mackenzie. The three students flew off and landed in the school while Bill Picha and Colleen got ready to help Lars and I get in the air. Arlana could now take pictures and watch.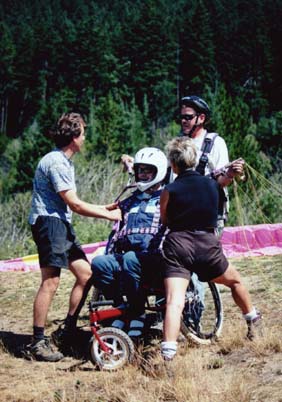 Lars is clipped in to the harness and chair. I am clipped into the tandem sorting out lines as great long cycles start blowing through launch. I clipped Lars into the spreaders and we waited for that magic cycle to pull us off launch. Bill is on the right and Colleen is on the left holding onto Lars risers. I pulled up the Space in a forward launch while they pulled forward to help me gain speed (it is impossible to run without bashing your shins on the chair). One abort occurred because the wing came up crooked.
We straightened out the wing and waited again. The cycle starts. I waited 20 seconds for the cycle to build and pulled up as the assistants pull Lars forward. The Space is up and firm as I pull a little brake, two steps and we are rising off launch to cheers from the group. We pulled right in front of launch and start turning to gain height and did a few passes for the photo opportunity. It is a bit thermic so I just flew the entire flight (rather than handing over the controls to Lars) to make sure we made the landing field.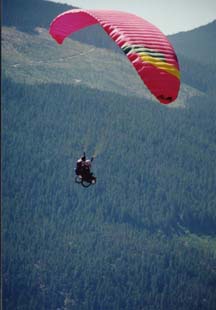 We made a few passes over the rocks left of launch by the river and the flying position was exactly like any other tandem except I could see wheels where my legs normally rest (so I put my legs out on top of the wheels). It kind of reminds me of ET (E.T. . . . phone home).
I noticed more drag than normal due to the wheelchair frame and wheels (kind of like when you put gear down on a Cessna 210) but at almost 400 lbs of loading we still went at a fast clip.
Now comes the inevitable landing! We set up over the trees and the wind was calm in the Schoolyard. I came in from the north over a ballgame (and could hear the people yelling something about a wheelchair) and made sure we were lined up straight and did a normal flare (didn't have to tell Lars to stand up or get ready to run). We started rolling and I leaned back away from the wheelchair and tried to run but we were already stopped and the chair tipped over backwards due to the wing coming down and my leaning back.
We righted Lars and unclipped him from the spreaders and he had this ear-to-ear grin for the rest of the day.
He didn't even want to take off the harness until about 30 minutes after flying.
Next step is training hills and solo flight for Lars. He and Arlana are both going for HPAC certification this summer.
Watch out for Lars on a mountain near you soon.
Thanks Bill and Colleen for assisting this wonderful flight!!
After three tandems with Lars piloting into the LZ at Bridal Falls and Woodside, I felt he was ready for a solo flight. We chose Woodside for the large smooth launch and big LZ.
After getting all the other students into the air, including his wife Arlana, it was now Lars' turn. The cycles were coming in straight at 15 km/hr. I couldn't see any reason not to try an inflation and if it was good, he would be off. I laid out the Flight Design A4-28 into a big horseshoe shape and clipped Lars to the glider and stayed behind the wheelchair holding it from rolling down the launch until the A4 was up over Lars' head. I told him to pick the cycle to launch.
Lars pulled up the glider perfectly first time and it was overhead. I started to push Lars down the launch and he was away from launch smoothly. He looked a bit loose in the harness but he flew a perfect flight into the LZ.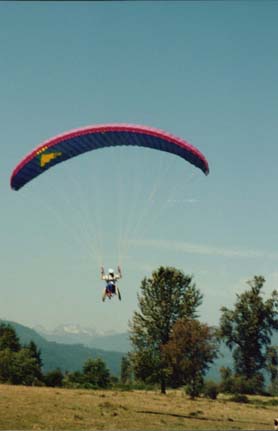 Lars landed on his wheels and after touching down the chair fell back. He was fine and I could hear the cheers from the other pilots over Colleen's radio when Lars landed.
Lars came back up for another flight that day and again had a beautiful launch and did a few turns in a thermal on the way out to the LZ. He did another beautiful landing right near the landing spot.
Lars has had three solo flights to date and (by accident) developed a landing technique that keeps him on his wheels. He forgot to flare on the last landing until he was just touching down and he rolled in at about 15 km to a smooth stop.