Lars Taylor - FlyBC's 1999 Rookie of the Year!

December 7, 1999, I was proud to present the FLYBC 1999 Rookie of the Year Award to Lars Taylor at the December West Coast Soaring Club meeting.

As the last Rookie of the Year for this century, Lars really earned his title.

Lars is wheelchair-bound (after a downhill bike accident 10 years ago) and through hard work and his determination, earned his HPAC Novice PG Rating this year (while taking a full-time engineering course at BCIT). I believe Lars is the first North American disabled PG Pilot to have a full certification.

Lars progressed very quickly to thermalling and refused to sink out on many days when the experts were bailing out.

Lars was doing so well we pushed him off the hill at the Grouse Meet in August and he won the "spot-landing" prize for Sunday, landing in the kiddie pool set up as a target!

In un-precedented arrangement with FlyBC/APCO Aviation/Muller Hanggliding and Paragliding, Lars Taylor has been awarded a new APCO Allegra to fly in the 2000 season (and beyond).

In a typically Lars fashion, he thanked Arlana (his lovely wife) - reminding us all that regardless of his standing as the first disabled PG rated pilot, he knows that they are the only rated PG couple! Arlana offered great support to Lars and has taken over as the Launch helper from myself and Colleen.

Congratulations, Lars! Enjoy the new Allegra!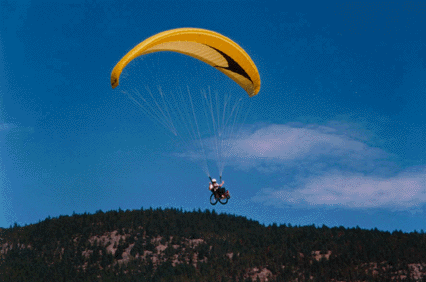 Lars' new Allegra.
Lars' launches at Grouse Meet August 1999